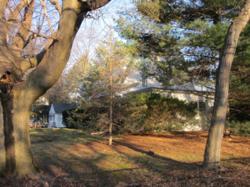 There are several ways a tree service can help trees work with the landscape and reduce the potential for summer storm damage
Philadelphia, PA (PRWEB) July 11, 2012
It's summer and time to spend time in the yard, pool or patio. It's also a time when overgrown trees need tree service to create a pristine landscape and tree trimming or complete tree removal of safety hazards that can cause damage in summer storms.
"Trees that looked fine through the winter and spring can suddenly overpower a landscape by summer," says Lou Giroud, President of Giroud Tree and Lawn and ISA Certified Arborist. Towering over the pool, patio and garden beds, trees in full leaf can create too much shade. Low hanging branches and encroaching roots can make walkways and driveways an obstacle course. From a safety standpoint, trees with structural weaknesses like cracked limbs or trunks are most likely to break or fall when the next storm hits.
"There are several ways a tree service can help trees work with the landscape and reduce the potential for summer storm damage, explains Mr. Giroud. "The key is for the homeowner to identify specific tree and landscape goals. Philadelphia homeowners should contact a professional tree service with ISA Certified Arborists to evaluate the situation and recommend the best actions which can include:"
1. Use professional tree trimming to train trees to work with the landscape

Thin crowns to allow more light on pools, patios or gardens. Train trees to grow in the proper direction by pruning branches growing the wrong way back to the correct lateral branches.
Eliminate or prune lower branches of trees hanging over driveways and walks
Prune roots that are cracking or lifting walks and driveways while ensuring the tree has a sufficient root system to remain stable and healthy.
2. Improve safety:

Remove dead, rotted and weakly attached limbs. Thin the crown to reduce wind resistance, weight and the likelihood of breakage.
Tree cabling secures weakly attached limbs or trees with multiple trunks: The Arborist needs to select the best hardware and placement for your specific situation.
Remove trees that pose a safety hazard or can't be adapted to the space.
3. For trees that are simply in the wrong place, the best solution might be tree removal and replacement with a tree that is better suited to the location.

Tree removal is needed for dangerous trees such as dead trees, unstable root systems or structural defects that can not be repaired or treated must be removed. These conditions make trees most vulnerable to damage from storms.
A tree's health is fragile and overzealous pruning can be harmful or even fatal. "An ISA Certified Arborist will never recommend topping a tree or in most cases removing more than 30% of a tree's crown," cautions Mr. Giroud. "To ensure trees live a long, healthy life, homeowners need to hire a professional, licensed and insured tree service with ISA Certified Arborists to monitor and maintain the tree health and safety."
For more information on summer tree care actions contact Giroud Tree and lawn at 215-682-7704 or go to: http://www.giroudtree.com/contact-us.
About Giroud Tree and Lawn
Giroud Tree and Lawn specializes in tree service and lawn care program that make customers love doing business with the company since 1974. Serving Bucks, Montgomery and Philadelphia Counties, the company offers professional tree and lawn evaluation, tree trimming, insect and disease control, fertilizing, tree removal, stump removal and traditional and organic lawn programs to keep lawns healthy and green . Giroud Arborists are certified by the International Society of Arboriculture (ISA) and have the knowledge and experience required to properly diagnose, treat and maintain trees and lawn health. The company has been awarded the Angie's List Super Service Award® every year since 2005. The "Giroud Treework for Charity" program donates free tree service to parks, historical sites and other non-profit organizations located in the Company's service area. For more information, visit the company website at http://www.giroudtree.com or call 215-682-7704.