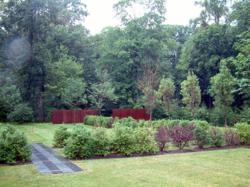 Early color change is one of the Top 5 Warning Signs of health problems for trees.
Philadelphia, PA (PRWEB) September 07, 2012
Trees with fall colors are not a good sign in September. Sycamores, Oaks, Maples and other hardwoods should be in full leaf and green through September. Tree service is needed when a tree's leaves turn color too soon. Giroud Tree and Lawn provides the top five Fall health warning signs for trees and the tree service actions Philadelphia homeowners can take to keep trees healthy and safe.
This fall, Philadelphia homeowners need to be on the alert for the five major warning signs that a tree's health is in jeopardy and tree service or tree removal is needed.
1. Leaf irregularities: Each tree variety changes color and drops its leaves at about the same time. Changes before late September may be a sign of health problems.
2. Insects: One of the biggest insect problems this year is Borers with Emerald Ash Borer leading the list. Recently discovered in the Philadelphia area, Emerald Ash Borer is 100% fatal to Ash trees. Professional treatment is the only way to protect Ash from this deadly pest.
3. Decay: Mushrooms and Shelf Fungi are symptoms of decay when growing out of the root system or trunk of a tree. Another sign of decay is a cavity. If the decay is extensive, then the tree may be hazardous.
4. Disease: Bacterial Leaf Scorch (BLS) has affected many Oaks and other hardwoods. If BLS is identified in the Fall, the tree should be treated with a Biostimulant now and treated with an Antibiotic the following Spring. See Giroud Tree and Lawn's Bacterial Leaf Scorch video comparing treated versus untreated trees.
5. Excessive deadwood: Dead branches can be a serious safety hazard to people and property. Brittle branches tend to break more easily in wind, snow and ice.
The following are the key tree service actions Philadelphia homeowners can take now to protect tree health and safety.
1. Start with a professional tree inspection: Spotting problems or hazards early is the main purpose of the inspection. An ISA Certified Arborist will check for cracks, decay, excessive deadwood and other problems that may require action.
2. Prune now for health, beauty and safety: Fall is a great time to prune most trees. Tree trimming should include deadwood removal, elimination of crossed branches and establishment of a healthy growth pattern.
3. Install cable supports in weak limbs: Trees with multiple trunks or included bark often require tree cable supports to keep from splitting apart. The hardware must fit the specific problem and be installed at the proper height and tension.
4. Tree Removal: If the Arborist determines that a tree is unstable and a hazard, tree removal will be necessary for the safety of people and property.
5. Treat destructive pests: Fall treatments are available for pests such as Emerald Ash Borer, Spider Mites, Lace Bugs, Hemlock Adelgid and Scale. Treatments must be completed before cold weather hits.
6. Fertilize trees: A Fall injection of time-release fertilizer stimulates root growth, improves root absorption capability and provides vital nutrients through the winter to get a strong start in the spring.
7. Stop Deer Damage: Fall and winter are prime times for deer damage. An Arborist can determine the best deer deterrent for the property.
About Giroud Tree and Lawn
Giroud Tree and Lawn specializes in tree service, tree removal and lawn care programs that make customers love doing business with the company since 1974. Serving Bucks, Montgomery and Philadelphia Counties, the company offers professional tree and lawn evaluation, tree pruning, tree removal, insect and disease control, fertilizing, stump removal and traditional and 100% organic lawn programs to keep lawns healthy and green . Giroud Arborists are certified by the International Society of Arboriculture (ISA) and have the knowledge and experience required to properly diagnose, treat and maintain trees and lawn health. The company has been awarded the Angie's List Super Service Award® every year since 2005. The "Giroud Treework for Charity" program donates free tree care services to parks, historical sites and other non-profit organizations located in the Company's service area. For more information, visit the company website at http://www.giroudtree.com or call 215-682-7704.