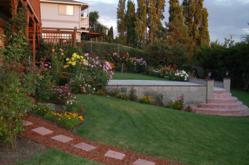 "We take care of every aspect of landscaping, from gardening to hauling, new fences and brick work, sprinklers and more
San Jose, CA (PRWEB) December 02, 2011
San Jose professional landscaper Palomares Tree and Gardening Service provides 10 easy tips on how to protect gardens during the fall season.
1. Do weeding and mulching in the fall, leaving less work to do in the spring.
2. Start composting. Chop up leaves and make a pile to be used as compost in spring. The leaves can also be used as mulch during fall to keep down winter weeds and conserve water.
Avoid covering plant stems with mulch, as this can lead to disease or pest damage.
3. During the cool season, September is the best month to seed, top dress with compost, core aerate, and fertilize, if necessary.
4. Fall is the best time to plant trees, shrubs and perennials. By planting in fall, the plants are not exposed to heat stress and have time to form sufficient root systems before the onset of winter dormancy. Water plants well to provide sufficient moisture to get them established.
5. Leave dried seed pods on the plants such as coneflower, goldenrod, milkweed and sunflowers for the birds who visit the garden during winter.
6. Wait until healthy plants are dormant to do most of the pruning.
7. Fall is the best time to plant cool-season vegetables such as spinach, lettuce, kale, and radish. Soak seed furrows well before sowing seed and mulch lightly. Water the rows daily to promote germination and growth of seedlings.
8. Spruce up containers with some cold-hardy ornamental grasses. Tuck in some winter annuals such as pansies or violas for some additional color in fall that will last through the spring. Be sure to keep the soil moist to help them through winter.
9. Check out garden centers for bargain-priced perennials. In late fall, garden centers need to make room for Christmas trees and winter greens. Perennials won't be in bloom, but with trimming and good watering, they will make it in the garden at a discount.
10. Wait until early spring to prune hollow-stemmed perennials. During winter, water collected in the stems can freeze and kill the plant.
"We take care of every aspect of landscaping, from gardening to hauling, new fences and brick work, sprinklers and more. We are dedicated to making your garden flourish," says the owner of Palomares Tree and Gardening Service.
For more information on Palomares Tree and Gardening Service, call (415) 690-9049. Palomares Tree and Gardening Service is located at 302 F Toyon Avenue #209 San Jose, CA 95127.
About Palomares Tree and Gardening Service
Since 2000, San Jose tree service company, Palomares Tree and Gardening Service has established itself as professional landscapers serious about their craft. They provide residents in the San Francisco Bay Area with a variety of landscaping services from putting up a new lawn to lawn maintenance, tree service, and more.
###