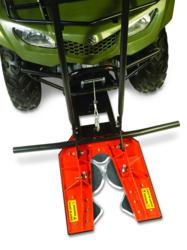 The DR TreeChopper mounts securely to the front of most ATVs and cuts trees up to 4" thick in seconds.
Vergennes, Vermont (PRWEB) August 27, 2012
DR® Power Equipment unveiled today the DR® TreeChopper™, a new ATV-mounted tree cutting tool designed to deal with the growing problem of invasive trees.
Invasive trees are a major concern for farmers, ranchers, and land management organizations across the country. It's estimated that in the Midwest alone, over 500,000 acres of pasture are lost to forest encroachment each year. And some tree species such as juniper and spruce often spread over natural firebreak areas (meadows, pastures) and can fuel dangerous wildfires.
The DR TreeChopper is a professional solution to invasive trees that fits within a homeowner's budget. The TreeChopper has been used for over ten years by ranchers and conservation organizations for reclaiming pastures, blazing trails, creating firebreaks, and opening up shooting lanes for hunting.
Made of durable, professional-grade steel, the device mounts securely to the front of most ATVs and cuts trees up to 4" thick in seconds. Unlike skid-steer mounted tree shears, the TreeChopper requires no external power source or stopping and waiting for hydraulic jaws to open and close around the tree. The TreeChopper can cut hundreds of trees per hour.
How the DR TreeChopper works:

Forward fixed blades on each side of the device score the trunk and help guide the tree toward circular rotating blades in the center.
Just like a pipe cutter slices through metal, circular blades rotate as the ATV accelerates through the trunk, cutting cleanly from each side.
The device's trailing blade shears off the stump smoothly from the back.
The blades cut flush to the ground, leaving a stump no more than a 1/4" high, so the tree won't re-grow.
Key features of the new DR TreeChopper include T-100 tempered steel blades and a durable, corrosion resistant powder coat finish. Field testing with the unit proves the durable blades will cut over 300,000 trees before they need to be replaced.
Maintaining the DR TreeChopper takes very little effort. DR Power suggests touching up the blades after each use with a flat file and oiling them to prevent rusting. The device can be repositioned vertically for easy access to the blades or transport.
The DR TreeChopper is available for purchase directly through DR Power Equipment at http://www.drpower.com/TreeChopper.
DR® Power Equipment, a division of Country Home Products, Inc., the premiere developer and marketer of professional-grade outdoor equipment for residential use, was founded in 1985 in Charlotte, Vermont. Country Home Products is a three time winner of Vermont's "Best Places to Work" award. The company employs over 220 people and occupies three facilities. For more information on its complete line of power equipment and property care supplies, visit the company's web site at http://www.drpower.com.
PRODUCT PHOTOS AND DEMONSTRATIONS ARE AVAILABLE. DR® Power Equipment sells products factory-direct and through a network of over 500 dealers; a free catalog can be ordered at 802-877-1200, or obtained online at http://www.drpower.com. For more information on DR® POWER EQUIPMENT, please contact Jon Trobaugh pr(at)drpower(dot)com.