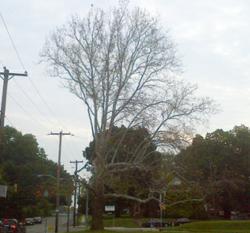 Tree diseases are rampant this spring due to damp, cool weather in the Philadelphia area
Philadelphia, PA (PRWEB) May 31, 2013
Damp, cool weather is to blame for increased tree disease outbreaks that can damage and in some cases kill a tree, according to the ISA Certified Arborists at Giroud Tree and Lawn. Sycamore, Dogwood, Oak and other popular landscape trees are most at risk. Many of these tree diseases can be controlled through tree services, fertilization and disease treatments.
The tree diseases most frequently identified in the Spring are:
1. Anthracnose: Sycamore, Ash, Oak, Maple, Walnut and Dogwood are the top trees plagued by Anthracose. Depending on the tree, symptoms can include twig dieback, leaf spotting or deformities, cankers and defoliation.
2. Fireblight: Wilted and blackened branches or blooms are a sign of Fireblight. Cream-colored liquid may ooze out of the cankers and run down the trunk and branches in the spring if conditions are very wet. The disease attacks more than 75 species, including Apple, Pear, Mountain Ash, Crabapple, Hawthorn, Cotoneaster, Serviceberry, and Pyracantha.
3. Rusts. Infected trees will show yellow to orange leaf or needle pustules, or branch growth swellings with horn-like projections. Two plant species are required to serve as alternate hosts for rust. Trees affected by rust diseases include Cedars, Junipers, Pine, Apples, Crabapple, Quince and Hawthorn.
"The first step to controlling or curing a tree disease is professional confirmation of the problem," says Lou Giroud, President of Giroud Tree and Lawn and ISA Certified Arborist. "An ISA Certified Arborist will evaluate the tree to determine what is causing the problem and the best action."
Without treatment, infectious diseases can damage tree health and in some cases kill the tree. Tree Service actions can include:
1. Disease Treatment: Many diseases can be successfully controlled through treatments targeted to the specific disease and tree. An ISA Certified Arborist will determine the best treatment protocol and dosage.
2. Tree Pruning: Thinning the tree's crown will improve air flow and discourage growth of fungus and other diseases. Additionally, diseased limbs should be removed and properly destroyed to prevent further spread.
3. Tree Fertilization: With the exception of trees infected with Fireblight, fertilizing annually will stimulate root growth, replenish nutrients lost through defoliation and strengthen the tree's immune system. For best results, the fertilizer should be a time release formula that provides a steady stream of vital nutrients for 12 months.
Diseases attack vulnerable trees. The best way to prevent disease is by keeping trees healthy through:

Professional inspection: An ISA Certified Arborist should inspect trees several times a year to scout for diseases and other problems that impact health and safety. Roots, trunk, branches, leaves and buds must be evaluated. If problems are detected, the Arborist needs to determine the severity of the problem and what action if any is needed.
Regular maintenance: structural pruning to ensure a healthy growth pattern, thinning for air flow and deadwood removal should be done annually.
Soil Improvements: Soil conditions can have a dramatic impact on tree health. Improve soil consistency, pH balance and structure through soil amendments and aeration.
Water: Drought often plays a role in opening the door for infectious diseases and tree decline. Maintain proper soil moisture by watering early in the morning during dry periods.
Tree diseases are rampant this season. If a tree shows signs of decline such as poor color, late to leaf out, sparse leaf development or excessive deadwood, homeowners should contact a tree service company with ISA Certified Arborists. A professional inspection will assess the tree's health and safety to determine the best course of action.
About Giroud Tree and Lawn
Giroud Tree and Lawn specializes in tree service, tree removal and lawn care programs that make customers love doing business with the company since 1974. Serving Bucks, Montgomery and Philadelphia Counties, the company offers professional tree and lawn evaluation, tree pruning, tree removal, insect and disease control, fertilizing, stump removal and traditional and 100% organic lawn programs to keep lawns healthy and green . Giroud Arborists are certified by the International Society of Arboriculture (ISA) and have the knowledge and experience required to properly diagnose, treat and maintain trees and lawn health. The company has been awarded the Angie's List Super Service Award® every year since 2005. The "Giroud Treework for Charity" program donates free tree care services to parks, historical sites and other non-profit organizations located in the Company's service area. For more information, visit the company website at http://www.giroudtree.com or call 215-682-7704.