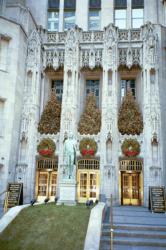 WGN Radio invited TreeTime™ to bring a new and inviting Christmas flair to their Tribune Tower studio located off of Chicago's famed Michigan Ave.
Chicago, IL (PRWEB) November 09, 2011
WGN Radio 720 has millions of listeners and fans throughout Chicagoland and beyond. The beloved radio station is at home in Chicago's famous Tribune Tower. The building's design was actually part of a worldwide competition for the most beautiful office building in the world. Realizing this, TreeTime™ artificial Christmas trees is aiming to create a Christmas display worthy of both the building's rich history and that of WGN Radio this Christmas season.
This November, people all over Chicago will be able to walk by the WGN studio and see a very Merry Christmas through their window displays off Michigan Ave. TreeTime plans to decorate the studio with an impressive blend of pre-lit Christmas wreaths, garlands, decorations, and their trademark artificial Christmas trees that the company is known for.
"When Garry Meier of WGN asked us to create something new and festive we were thrilled at the opportunity," said co-founder Joe Kane of TreeTime Christmas Creations. "We've started a great relationship with WGN and want to give their studio a fresh, new Christmas style and elegance that will put a smile on their faces and for those that are on the outside looking in."
"Every new Christmas display introduces unique design challenges and creativity that make it that much more inspiring and fun for us," says Laurie Kane of TreeTime. "The fact that this is a Christmas display for WGN in a historic Chicago landmark building, and on the famous Magnificent Mile, is just raising the bar that much higher. We are very excited."
TreeTime's artificial Christmas tree Winter-Wonderland showroom is located at 22N102 Pepper Rd. Lake Barrington, IL. 60010. Store hours are: Monday, Wednesday and Friday 10:00am-6:00pm, Tuesday and Thursday 10:00am-8:00pm, and Saturday/Sunday 10:00am-5:00pm.
For more information, please call TreeTime at 847-527-8880 or visit them online at http://www.treetime.com.
###