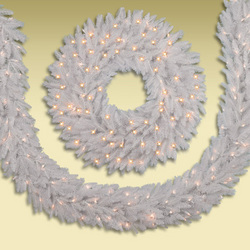 We're pleased that [our trees] are filling a community niche
South San Francisco, CA (PRWEB) April 13, 2010
Treetopia, the internet's largest resource for nontraditional artificial Christmas trees, reports seeing a run in sales for artificial palm trees and white Christmas trees in the first week of April.
"Our largest revenue comes during the Christmas season," says Carrie Chen, spokeswoman for Treetopia.com, "but the alternative nature of our artificial Christmas trees allows clients flexibility of use. We always see spikes and runs during certain times of the year, and usually we're able to associate those changes with national events, such as the Super Bowl. Due to this spike we're seeing in the sale of white Christmas trees and palm trees, the only event we can associate with it is the Palm Springs White Party."
Treetopia reports, at minimum, a 50% jump in sales of white Christmas trees and palm trees.
Held at the Renaissance Palm Springs hotel from April 9-12, the Palm Springs White Party is an A-list event coordinated by Los Angeles event planner Jeffrey Sanker, who first established this annual LGBT party twenty-one years ago. The event comes on the heels of another Los Angeles-based LGBT event, Dinah Shore Week, also hosted at the Renaissance Palm Springs.
The White Party is also held in Miami, and Ms. Chen states that Treetopia sells many lighted artificial palm trees to the Miami-Fort Lauderdale and Los Angeles areas as well, as these artificial palm trees mimic trees native those areas. But to see such a spike in sales for white trees around the time of a white-themed event, Ms. Chen says, Treetopia can only account for it in one way.
"Treetopia artificial Christmas trees are multi-purpose, thus filling the diverse needs of our customers," says Ms. Chen. "We're pleased that they are filling a community niche."
For more information please visit http://www.treetopia.com
About Treetopia:
Treetopia.com is an online store featuring a diverse selection of artificial Christmas trees. Featuring traditional artificial Christmas trees, white artificial Christmas trees, black artificial Christmas trees, pink artificial Christmas trees, silver artificial Christmas trees, lime green artificial Christmas trees, purple artificial Christmas trees, upside-down artificial Christmas trees, lighted palm trees, trimmings, tree skirts and decorations , Treetopia has something for everyone. They sell exclusively online through http://www.treetopia.com.
###