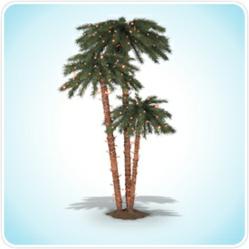 The eco-friendliness of the decorative use of artificial trees…versus the use of farmed trees is reinforced.
South San Francisco, CA (PRWEB) July 04, 2011
On the heels of the 2009 Copenhagen Summit on Climate Change, governments around the world have pledged to further efforts to cut greenhouse gas emissions to welcome renewable energy sources. In the wake of a report by the New York Times, Treetopia ™, a leading online retailer of artificial trees, encourages a switch to artificial Christmas trees and plants with its Independence Day sale.
In a June 3 New York Times article, findings by the Intergovernmental Panel on Climate Change, advisers to the United Nations and a highly credible body of esteemed climate change scientists, indicated that up to 80 percent of the world's total energy needs could be supplied by renewable sources by mid-century. More studies from the same authoritative body show that of the six sources of renewable energy widely used today—biomass, wind, solar, geothermal, hydropower and ocean energy—it is wind power that has the greatest sustainability and smallest carbon footprint. Despite this, there are hesitations to develop the energy source because of its fluctuating nature and the publicly perceived "unattractiveness" of the windmills.
Of these six, the most widely used renewable energy resource, biomass (which includes biofuels and other sources of bioenergy), is also the most hotly contested. Because of the massive amounts of fuel used to clear land to make room for trees and crops that are to be farmed for biofuel, the "greenness" of biomass has come under question.
With this information, the eco-friendliness of the decorative use of artificial trees, such as Christmas trees, versus the use of farmed trees is reinforced. Says Carrie Chen, spokesperson for Treetopia ™, "The maximized use of artificial plants not only saves more than a dozen trees over the same amount of years, it also greatly contributes to the lessening of greenhouse gas emissions by not having to be brought down by gas-emitting chainsaws and transported by gas guzzling trucks." To encourage the average American to purchase artificial trees and bring greenness into their lives, Treetopia ™ puts its best trees on sale for the 4th of July.
With a variety of traditional green or white Christmas trees, funky trees like the Stephen J. Colbert tree, artificial topiaries, wreaths, garlands and novelty artificial trees such as the lighted palm trees, Treetopia ™ offers artificial trees that supplement Independence Day decorating and designs for summer parties and functions.
In a study by the American Christmas Tree Association, the "cradle to grave" carbon footprint of artificial trees is significantly lower than that of a real Christmas tree. Chen finishes, "With the information supplied by these esteemed authoritative bodies, it is made obvious that the seemingly never-ending battle between natural and artificial trees has come to an end. When used to its fullest, the artificial tree is Greener, more sustainable and friendlier to renewable energy sources."
About Treetopia ™
Treetopia.com is an online store featuring a diverse selection of artificial Christmas trees. Featuring traditional artificial Christmas trees, white artificial Christmas trees, black artificial Christmas trees, pink artificial Christmas trees, silver artificial Christmas trees, lime green artificial Christmas trees, purple artificial Christmas trees, upside-down artificial
Christmas trees, lighted palm trees, trimmings, tree skirts and decorations , Treetopia ™ has something for everyone. They sell exclusively online through http://www.treetopia.com.
###