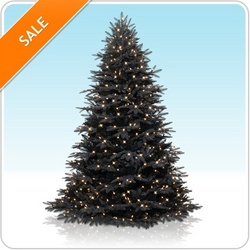 The Twilight Christmas tree is the perfect decor for Twilight parties
South San Francisco, CA (PRWEB) June 30, 2010
Treetopia™, the leading online source for funky artificial Christmas trees, celebrates the release Twilight Eclipse, the newest movie in the Twilight Saga, with a steep sale on their unique Twilight Black artificial Christmas trees. With special showings nationwide of the first two installments on June 26th, and a lunar eclipse on the same day, America is gripped in Twilight fever. In light of this, Treetopia™ spokesperson Carrie Chen says, "The nation is poised for Twilight Eclipse, and Treetopia™ is excited to offer an amazing 50% off our Twilight Black artificial trees."
The Twilight Black artificial Christmas tree is a safe alternative to live trees, while paying close attention to maintaining the same look and feel. Treetopia™ artificial Christmas trees are pre lit with UL-rated lights, storage bags and added features such as an on/off foot pedal. Fully flame retardant, the pre lit Twilight Black artificial tree is at the top of its class, with polyethylene (PE) branches and high quality lighting that stands the dead of night.
With a mix of PE and PVC branches, Treetopia™ Twilight Black Christmas trees have a more mature, life-like appearance, which consumers appreciate. The pre lit Twilight Black artificial Christmas tree has a four-star customer approval rating overall, and comes with a three-year warranty, though this tree will be around for many parties to come. Treetopia™ suggests this black Christmas tree as the perfect décor for Twilight release parties, and as an added bonus black Christmas trees can be reused year-round as Halloween décor, a funky artificial Christmas tree, or to enliven other celebrations.
"Parties in general benefit from inspired décor, and the Twilight Black artificial tree is a one-of-a-kind piece that makes a bold statement," Ms. Chen emphasizes. Treetopia™ speculates that with the trees on such a deep discount, they will be selling out fast as consumers buy two trees per purchase, with free ground shipping in the continental US. Two Twilight Christmas trees in one room is the ideal backdrop to a Twilight Saga party, and its lush, life-like appearance, lends it to year-round celebration decor.
With stupendous savings, free shipping and an excited populace, Treetopia™ Twilight Black artificial Christmas trees are a summer blockbuster.
For more information visit http://www.treetopia.com
About Treetopia™
Treetopia.com is an online store featuring a diverse selection of artificial Christmas trees. Featuring traditional artificial Christmas trees, white artificial Christmas trees, black artificial Christmas trees, pink artificial Christmas trees, silver artificial Christmas trees, lime green artificial Christmas trees, purple artificial Christmas trees, upside-down artificial Christmas trees, lighted palm trees, trimmings, tree skirts and decorations, Treetopia has something for everyone. They sell exclusively online through http://www.treetopia.com.
###