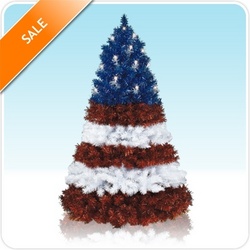 Our red, white and blue trees are the perfect accessory to Independence Day barbeques and pool parties
South San Francisco, CA (PRWEB) July 4, 2010
Treetopia ™, the leading online source to find any funky artificial Christmas tree, celebrates July 4th with a sale of up to 60% off on red, white and blue artificial trees, along with deep discounts on other July 4th trees. "The essential summer holiday is here, and homeowners will celebrate," remarks Carrie Chen, spokesperson for Treetopia ™. "Our Red, White and Blue trees are the perfect accessory to Independence Day barbeques and pool parties."
According to a recent International Business Times article, retailers are gaining interest in the idea of Christmas in July for 2010, causing seasonal summer sales to become a rising trend. Shopping trends historically spike around July 4th; Treetopia ™ and other major retailers offer deep discounts to motivate consumer spending.
Most of the seasonal artificial trees on Treetopia.com are currently on sale. "Great prices on great trees show our dedication to the customer," emphasizes Ms. Chen. "Treetopia ™ has all types of funky and traditional artificial trees for any and every occasion."
Treetopia ™ offers myriad red, white and blue trees. The Cranberry Crush tree and Candy Apple Red Christmas tree are customer favorites; In the Navy and Smurftastic are the blue Christmas trees available, each with five star customer approval ratings. Hanukkah Bush, Winter White and Blinded by the White Snow Pine are choice selections of the offering of white Christmas trees that Treetopia ™ supplies.
Especially loved by military families, the red, white and blue Christmas trees show support for America. Treetopia ™ suggests trios of them throughout the home for Independence Day parties. Featured on the Today Show, the Stephen J. Colbert National Treasure artificial Christmas tree, whose name was chosen by an online customer poll, is also on sale.
"Our patriotic trees are great for having a funky Christmas, too, or as decoration for playrooms and nurseries," Carrie Chen points out. Treetopia ™ comments that white Christmas trees make excellent Christmas décor, indoors or out; or place a red tree in a girl's room and a blue one in a boy's. For any holiday or celebrations, Treetopia ™ has the most distinctive selection of artificial Christmas trees on the Internet.
For more information visit http://www.treetopia.com
About Treetopia ™
Treetopia.com is an online store featuring a diverse selection of artificial Christmas trees. Featuring traditional artificial Christmas trees, white artificial Christmas trees, black artificial Christmas trees, pink artificial Christmas trees, silver artificial Christmas trees, lime green artificial Christmas trees, purple artificial Christmas trees, upside-down artificial Christmas trees, lighted palm trees, trimmings, tree skirts and decorations, Treetopia has something for everyone. They sell exclusively online through http://www.treetopia.com.
###