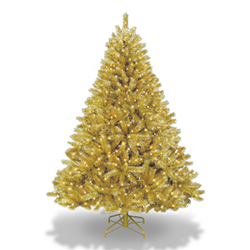 Many consumers are getting into the habit of using artificial Christmas trees to celebrate events other than the holidays.
South San Francisco, CA (PRWEB) February 7, 2010
As the New Orleans Saints and the Indianapolis Colts prepare to take the field, fans of both teams ready their Super Bowl party with colorful artificial Christmas trees from Treetopia, leading online retailer of traditional and unique artificial trees. Treetopia has released a 15%-off coupon for artificial trees in Super Bowl 2010 team colors, set to expire on February 8th.
Super Bowl 2010 fans began turning their eyes Treetopia.com weeks ago, where purchases of white Christmas trees, as well as navy, black, and gold Christmas trees, have been rising -- even before the announcement of the retailer's 15% off coupon.
"We've seen a recent spike in the sale of artificial Christmas trees that match the team colors for Super Bowl 44," says Carrie Chen, spokeswoman for Treetopia, "and we're so excited that our customers are turning to Treetopia to help them celebrate and support their favorite team. We're happy to offer a 15% off coupon to help even more Super Bowl fans bring their teams to victory."
South Florida has hosted nine previous NFL Super Bowl games, a pattern that has allowed the region's economy to flourish. According to an article written by the Miami Herald's Edwin Pope, Nicki Grossman of the Greater Fort Lauderdale Convention/Visitors Bureau believes that the Super Bowl will rake in $400 million for the area.
This upsweep in local income will come in handy for the New Orleans Saints and Indianapolis Colts fans in South Florida, where sales for lighted artificial palm trees from Treetopia are strong. NFL fans loyal to the Super Bowl but not particular to either team in Super Bowl 44 may consider using these trees at their Super Bowl party, then as year-round party décor.
"We're also seeing strong sales for our black Christmas tree this year, and that is outside of the fan craze for the New Orleans Saints," Ms. Chen adds. "Many consumers are getting into the habit of using artificial Christmas trees to celebrate events other than the holidays. In fact, the versatile uses for a black Christmas tree range from livening up Halloween parties to creating an elegant backdrop for New Year's Eve events to sprucing up Super Bowl parties."
To receive 15% off of all black trees, wreaths & garlands; all white trees, wreaths and garlands; all gold trees, wreaths and garlands; and navy trees, visit http://www.treetopia.com and type in coupon code 2010SPRBWL at checkout. Coupon expires Monday, February 8th.
About Treetopia
Treetopia.com is an online store featuring a diverse selection of artificial Christmas trees. Featuring traditional artificial Christmas trees, white artificial Christmas trees, black artificial Christmas trees, pink artificial Christmas trees, silver artificial Christmas trees, lime green artificial Christmas trees, purple artificial Christmas trees, upside-down artificial Christmas trees, lighted palm trees, trimmings, tree skirts and decorations , Treetopia has something for everyone. They sell exclusively online through http://www.treetopia.com.
# # #