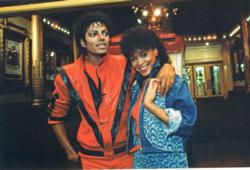 "[Michael Jackson] really did his personal best to help me while he was alive," states Ray. "Unfortunately, the people handling his estate have not been acting according to his wishes since his death."
Los Angeles, CA (PRWEB) April 19, 2012
After nearly 30 years of royalty struggles, Ola Ray, the woman who famously appeared alongside Michael Jackson in the immensely popular "Thriller" music video, finally heads to a jury trial with the Jackson estate on April 30, 2012 alleging breach of contract (Case No. SC102953). Since co-starring alongside Michael Jackson in "Thriller," which many would call the most revered music video of all time, the former Playboy Playmate has fought an uphill battle to collect royalties that she claims have not been paid over the past decades. After finally going the distance with her entertainment lawyer, Ray's long ordeal is coming to a close.
Ray, 51, was just 23-years-old when she appeared alongside Jackson in "Thriller" and frightened children worldwide with her piercing scream. Since its release in 1983, the video has enjoyed countless airings and financial success that has far exceeded any video in music history. Its signature "zombie dance" has been emulated worldwide and the "Thiller jacket" that Jackson wore in the video is one of the most popular articles of clothing ever worn. The short film has even garnered federal recognition, having recently been inducted for preservation in the National Film Registry of the Library of Congress.
According to court documents, Ray's original employment contract for "Thriller" allegedly entitles her to a specified percentage of the revenue derived from the video and related merchandise; however, even though the short film has reportedly made millions, Ray asserts the Jackson estate has not paid her regular royalties since the 1980s.
Despite her ongoing litigation battles with the Jackson estate, Ray claims she has never held any ill feelings towards the late pop star personally.
"I have always loved Michael Jackson and thank him for the opportunity of a lifetime to be part of such an iconic piece of music history," states Ray. "Michael would always re-release 'Thriller' in different packages so that I would get my royalties. He really did his personal best to help me while he was alive. Unfortunately, the people handling his estate have not been acting according to his wishes since his death."
Ray was a huge fan of Jackson even before landing the role in "Thriller." As the June 1980 Playboy Playmate, her centerfold listed the King of Pop as one of her favorite entertainers. Understandably, Ray was on cloud nine when she beat hundreds for the opportunity to star alongside her idol. She claims to have nothing but fond memories and admiration for MJ.
"Michael was one of the sweetest people I've ever met," recalls Ray. "We would run around the set and play like kids. When he passed away, I was devastated. I had lost a friend."
In the digital age, primarily since Jackson's passing in 2009, the pop star's estate has allegedly profited greatly from the exploitation of "Thriller." For example, the video has been one of the best-selling music videos in iTunes history. Ray continues to be adamant that she has not received a cent from any revenue related to "Thriller" since 1999.
Trejo Law Corporation, a Beverly Hills law firm specializing in entertainment law, recently revealed its representation of Ola Ray and the interesting details of her case. "Ms. Ray simply wants Jackson's estate to honor the terms of her employment agreement so that she may move on with her life," asserts Jose A. Trejo, the entertainment attorney representing Ray in the current matter. "The estate cannot continue to exploit 'Thriller' and neglect to pay Ms. Ray the royalties to which she is contractually entitled."
After decades of legal struggles with Jackson and his estate, Ray seems optimistic that the ordeal is nearing an end.
"I am very thankful that Michael cast me as his girlfriend in 'Thriller' and I cherish the memories. I just want what's owed to me," insists Ray. "I am looking forward to having my day in court and putting this matter behind me very soon."
Ola Ray currently resides in Sacramento, California with her 17-year-old daughter. Jose A. Trejo is an entertainment attorney at Trejo Law Corporation, an entertainment law firm located in Beverly Hills, California.