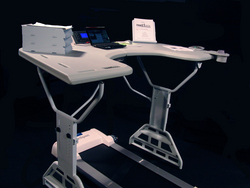 (Vocus) February 19, 2010
America has seen a profound rise in the diagnosis and treatment of Attention-Deficit Disorder (ADD) during the past decade. Nowhere is this more evident than in the workplace where employees consider a variety of options to stay sharp and competitive. A safer, more effective means of combating ADD, improving concentration and memory is through the use of exercise. The challenge for most employees however is finding time to perform adequate amounts of daily exercise to combat the effects of ADD and work related stresses that lead to decreased performance. TrekDesk, a height adjustable work station that attaches to existing treadmills, offers a solution to the problem.
"There are numerous studies illustrating that ADD is over diagnosed and treatments are overly prescribed in our society. Most employees do not realize that exercise could replace medications for many of the 8-10% of the population who suffer from this condition," states Steve Bordley, CEO of TrekDesk.com. "Exercise, such as walking a minimum of five miles per day, increases the release of neurotransmitters norepinephrine and dopamine, both established components of the brain's attention system. Think of it this way, a dose of exercise is more effective (posing no side effects) than Ritalin or Adderall, two of the most often prescribed medications for ADD."
Walking has other significant benefits over medications: it's effects are positive, numerous and cumulative, posing no health risks. Daily walking regimens boost the amount of neurotransmitters, postsynaptic receptors and small blood vessels in the brain allowing most employees to overcome their ADD naturally.
The long term effects of medications do not share the same track record. Adderall, available in the United States and often prescribed to treat ADD was withdrawn from the Canadian market altogether after numerous reports of sudden death, heart related deaths and strokes in both children and adults.
Ritalin was shown to be ineffective over three year study periods and potentially harmful to development in children.
Dr. John Ratey an Associate Clinical Professor of Psychiatry at Harvard Medical School has long championed the substitution of exercise for medications, studying the effects of exercise on the brain and has made some astounding discoveries.
He first noticed the connection of ADD to exercise when several of his patients who were marathoners "developed" ADD when they were forced to stop training due to injuries. It occurred to Dr. Ratey that they had previously suffered from ADD however their training had eradicated the effects of ADD. Once the exercise stopped, their ADD took hold once again. The American Medical Association is finally making the connection as well stating in 2007 that "exercise is medicine".
"Exercise truly is medicine and hundreds of medical trials have proven this over the decades, yet schools and work environments are dooming the population to extended sedentary periods daily that accumulate into severe risks to our health and the health of our children. TrekDesk added to an existing treadmill allows individuals to walk slowly throughout the day, without sweating, achieving a multitude of mental and physical health benefits," stated Bordley.
Dr. Ratey was quoted in a recent article published in WebMD stating that treadmill desks would be excellent for both adult and children to keep ADD under control. Dr. Ratey stresses the importance of daily exercise for long term health benefits.
Examples abound of the positive effect of exercise on ADD and a multitude of other afflictions. Perhaps the most famous athlete suffering from ADD is Olympic swimmer Michael Phelps. His ADD was so extreme that he was unable to remain in school without medication. However once he started swimming up to 3 hours per day Phelps no longer had a need for medication.
This is not anecdotal evidence, Dr. Ratey believes that most individuals suffering from ADD could be taken completely off medication if they engage in daily exercise programs.
Solutions to problems are often discovered by science analyzing the changes that have occurred in a specific environment. Rising obesity rates, increases in heart disease, diabetes, ADD, and other diseases have propogated in an ever increasing social environment of inactivity. Many in the medical profession are proving that this link is not coincidental and that daily exercise truly is a uniquely beneficial medicine necessary for our health.
Contact:
Steve Bordley
TrekDesk
Ph: 877-449-8588
FAX: 877-449-8588
info(at)trekdesk(dot)com
http://www.trekdesk.com
###