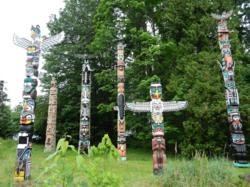 Urban parents swear by the beaches in Kits and Stanley Park, but a favourite for wilder adventures is lesser-known Rocky Point Park.
Palo Alto, California (PRWEB) May 13, 2013
Trekaroo, a trusted family travel resource in the US, has expanded coverage to Canadian destinations, including Vancouver, British Columbia. What sets Trekaroo apart: local, insider knowledge of the best the city has to offer families. "At Trekaroo, we understand that the best family travel tips come from parents who have been there, done that," says LiLing Pang, Trekaroo CEO. "Families trust our US-based destination reviews because they're written by real parents with intimate knowledge of each destination. Our Vancouver BC reviews follow the same principle because no one knows kid-friendly attractions like the families who experience them regularly."
In celebration of Trekaroo's Canada launch, Trekaroo families and travel experts from the Pacific Northwest and BC offer 10 insider tips for visiting Vancouver with kids:
Take the SeaBus
Young kids will consider Vancouver's SeaBus as entertaining as any of the attractions in the city. The 15 minute ride from downtown Vancouver's waterfront to North Seattle is fun (and should be seasickness free). Upon arrival, pick up fresh fruit or baked goods at the Lonsdale Quay Market, just outside the SeaBus terminal, to fuel for the return trip.
Recommended by Debbie Dubrow of Deliciousbaby.com
Don't Overlook the Botanical Garden
The VanDusen Botanical Garden is one of Vancouver's most visited and best loved attractions. The 55-acre garden is located in the heart of the city, and is a beautiful place to walk and enjoy nature and the seasons at any time of year.
Recommended by Trekaroo member travellingmom, Claudia Laroye of TheTravellingMom.ca
Find the Food Trucks
Vancouver is known for sustainable cuisine, but families don't have to eat in expensive restaurants to experience it. Roam amid Vancouver food trucks near Canada Place, or head straight to a local standby in Vancouver: JapaDog.
Recommended by Trekaroo member pitstopsforkids, Amy Whitley of PitStopsForKids.com
Don't be afraid of the Rain
Inevitably, rain will fall during a visit to Vancouver. Unless families are traveling during those glorious summer months that see more sunshine than drizzle, a back-up plan is needed. There are plenty of museums to check out, but always remember: if it's raining in the city it is usually snowing in the mountains. Head up to Grouse Mountain or even Whistler for a day of adventure. 
Recommended by Trekaroo member WalkingOn_Travels, Keryn Means of WalkingOnTravels.com
Visit Stanley Park
Be sure to visit Stanley Park! This 1000 acre urban park bordering downtown includes an estimated half million trees and the Vancouver Aquarium, which is not to be missed. The whole family will love the dolphin show, and all the many exhibits to be viewed in this beautiful facility.
Recommended by Trekaroo member modernmama, Connie Peters of ModernMama.com
Discover Science in a New Way
For kids looking to learn, the Beaty Biodiversity Museum is one of Vancouver's hidden gems. This mini version of the Museum of Natural History includes the largest blue whale skeleton on display in Canada. When it's time to head outdoors, urban parents swear by the beaches in Kits and Stanley Park, but a favourite for wilder adventures is lesser-known Rocky Point Park.
Recommended by Annemarie Templeman-Kluit of YoyoMama.ca
Dine at a Hip Lunch Spot
Parents looking for an up-and-coming lunch spot where kids are welcome (and even entertained) can check out Corduroy Lounge in Kitsilano, now open for lunch with a kid-friendly play area.
Recommended by Trekaroo member swankmama, Kristina Cross of SwankMama.com
Enjoy Locally-Sourced Food
The Rocky Mountain Flatbread Company is a one-stop shop for delicious, locally sourced food, and perhaps more importantly, kid-friendly play areas. If the weather turns rainy, spend some extra time indoors at Rocky Mountain Flatbread Company participating in their family pizza making night or a cooking class.
Recommended by Michelle Gadd of ElasticPantCity.com
Spend a Morning on Commercial Drive
For a kid-friendly slice of Vancouver, start the morning at Little Nest in the Commercial Drive neighbourhood, which serves up delicious breakfast and lunch options with vintage high chairs for the babies and a play area for the kids. From there, it's a quick walk to Grandview Park, where the kids can run around the playground.
Recommended by Angie Schick of ModernMama.com, VancouverWest
Take Time for Tea
Perfect for visiting mothers and daughters, the Secret Garden Tea Company located in Kerrisdale offers a high tea service to die for. There's even a kids' size!
Recommended by Melissa Carr of TheThirtiesGrind.com
Trekaroo is the fun way to get the inside scoop on everyday travel with kids. With thousands of kid-friendly activities, hotels, and restaurants, Trekaroo unearths delightful discoveries near and far. Learn more about Trekaroo's Canada launch and connect with additional travel-savvy families on Trekaroo.com.