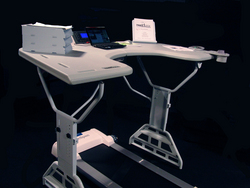 Study after study confirms that many things happen to our bodies when we sit and none of them are good
Phoenix, AZ (Vocus) December 17, 2009
A Finnish study published in the British Journal of Medicine has shown that men who exercised for at least 30 minutes a day at moderate to high intensity cut their risk of premature death due to cancer by 50%, particularly lung and gastrointestinal cancer.
Inactivity over a lifespan is thought to be a major contributor to the initiation of cancer development in men and women. Today's work environments and sedentary lifestyles are forcing individuals to explore creative ways to add movement into their day.
TrekDesk, a full sized, height adjustable work station which attaches to existing treadmills is rapidly gaining notoriety as a potential answer to the problem.
"This is an issue affecting every industrialized nation in the world, as a result we are shipping TrekDesks not only in the United States but also Canada and the Pacific Rim," states Steve Bordley, CEO of TrekDesk.com.
Movement throughout the workday boasts important benefits and clinicians speculate that the positive effects on energy balance, body mass, intestinal transit time, enzyme and antioxidant production and hormonal balancing have a direct impact on the reduction in cancer risks.
"Study after study confirms that many things happen to our bodies when we sit and none of them are good," states Bordley. "Increases in obesity, skeletal issues, a wide range of major category diseases, and energy loss can be linked directly to the time spent sitting in chairs."
The Finnish study noted in particular a reduction in gastrointestinal cancers among active study participants however data from the American Cancer Society has already shown that individuals walking a minimum of 5 miles per day and maintaining a balanced diet and lifestyle reduced cancers from 30%-70% across the board.
Hippocrates coined the phrase "Walking is man's best medicine," two thousand years ago. His message is more timely today then ever before.
CONTACT:
Steve Bordley
TrekDesk
Ph: 877-449-8588
FAX: 877-449-8588
http://www.trekdesk.com
###