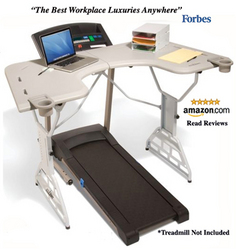 Do the math and it appears the difference between being thin or overweight is an extra 5,000 steps a day for most.
Phoenix, AZ (Vocus) November 4, 2010
America is fatter now than at any point in its history. 2 out of 3 American adults are overweight with 50% of this number clinically obese. Most are resigned to their weight gain after unsuccessful attempts at weight loss buoyed by a booming $35 Billion diet industry that simply does not deliver results. A new study out of the University of Tennessee confirms what many medical professionals already recognize as the top reason for our ever expanding waistlines: Americans simply do not walk enough. TrekDesk treadmill desks offer a simple solution to get Americans back on a healthy track.
The study, led by David R. Basset Jr., co-director of the University of Tennessee Obesity Research Center, found that Americans average only 5,000 steps per day despite the Surgeon General's minimum recommendation of 10,000 steps a day.
Basset's study analyzed pedometer data from 1,136 U.S. adults and compared it to statistics from similar studies internationally. It was no surprise to Basset that the nation leading the world in obesity rates also leads the world is inactivity, "certainly, we think that one of the reasons that people in the United States are heavier is that they walk less than people in other countries."
"The math behind these findings is enlightening when looked at in context with other studies," stated Steve Bordley, CEO of TrekDesk Treadmill Desks. 10,000 steps equates to 5 miles so Americans are walking on average only 2.5 miles per day. Studies out of the Mayo Health Clinic by Dr. James Levine confirmed the main difference between a thin and overweight person is that thin individuals walk 2.5 more hours in a day. They also found that walking speeds average out to 1 mph during the entire day. Do the math and it appears the difference between being thin or overweight is an extra 5,000 steps a day for most."
Could it really be that simple? "Americans have the power to change the health landscape in this country almost overnight by walking 10,000 steps a day. The focus always seems to be on the issue of weight loss but the mental and physical benefits of walking 5 miles or more per day are staggering, we desperately need to engineer movement back into our lives," concluded Bordley.
TrekDesk is a full sized, height adjustable work station which attached to an existing treadmill allows individuals to walk slowly while they work and restore their health. Designed to re-introduce movement into the workplace and schools TrekDesk offers the ability to achieve 10,000 steps in as little as 3-4 hours a day.
TrekDesk is currently available for sale online at TrekDesk.com for $479.00 including free shipping. Join the TrekDesk "Movement Revolution" to learn more about these studies on TrekDesk's Facebook page at http://www.facebook.com/pages/TrekDesk-Treadmill-Desk/80743563805
CONTACT: Steve Bordley
TrekDesk
Ph: 877-449-8588
FAX: 877-449-8588
info(at)trekdesk(dot)com
http://www.trekdesk.com
###