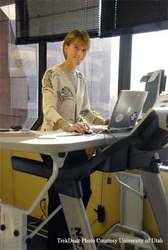 We evolved as a species to be upright. We have less loading actually of the joints and our back standing than we do sitting. We actually lubricate the joints in our lower extremities, in our hips, in our knees and our ankles through movement
Salt Lake City, UT (Vocus) December 10, 2009
A new research project for scientists at the University of Utah has been announced which will focus on a series of workplace wellness studies designed to test the effectiveness of walking slowly while working, utilizing a treadmill desk known as the TrekDesk.
The first in a series of proposed studies will focus on damage caused in the workplace to employee's spines. Eight out of ten Americans will suffer from back pain and injury at some point in their adult lives. The study will do a comparative analysis of spinal compression caused by office chairs versus the compression reducing qualities of walking.
"We evolved as a species to be upright. We have less loading actually of the joints and our back standing than we do sitting. We actually lubricate the joints in our lower extremities, in our hips, in our knees and our ankles through movement," states lead scientist, Dr. Elizabeth Joy, Director, Utah Health Research Network (UHRN). Dr. Joy has an extensive background in workplace wellness issues and has long lobbied for the re-engineering of work environments to allow for more physical movement.
Treadmill desks are currently in use at many Fortune 500 companies and small businesses across America and have been shown effective in boosting energy, productivity, preventing disease, assisting in weight loss and restoring health.
Many employers faced with declining employee health and rising health care costs now see the need for a radical change in the workspace and a need for more healthy solutions. The current challenge for most employers is finding a solution that is affordable since treadmill desks may retail between $4,500 and $6,000.
A treadmill desk manufacturer based in Phoenix, AZ recently released the TrekDesk, which, priced at 1/10 the cost of comparable models, is the subject of many of the proposed studies. TrekDesk is a full sized, height adjustable workstation designed to attach to an existing treadmill.
"We are thrilled that the University recognizes the myriad health benefits of treadmill desks and are honored that the TrekDesk has been chosen for further study due to its affordability and design," states Steve Bordley, CEO of TrekDesk. "With rising obesity rates and skyrocketing health care costs it is time to realize that the sedentary design of the workplace must be changed," states Bordley, "once employers adopt measures to keep their employees moving during the day they will see a boost in productivity and a decrease in sick days and health care costs."
Daily use of a treadmill desk would allow employees to achieve the US Surgeon General's minimum 10,000 steps (5 miles) per day for health maintenance. Currently the average American walks less than one third of this amount leading to an ever rising tide of health concerns and costs.
CONTACTS:
Liz Joy, MD, MPH
Associate Professor
Director, Utah Sports Research Network (USRN)
Director, Utah Health Research Network (UHRN)
Director Sports Medicine Fellowship Program
Team Physician
University of Utah
801-585-9075 (office)
801-581-2771 (FAX)
801-339-1579 (pager)
Steve Bordley
CEO
TrekDesk
Ph: 877-449-8588
FAX: 877-449-8588
info(at)trekdesk(dot)com
http://www.trekdesk.com
# # #