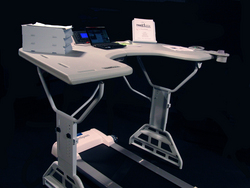 Study after study has illustrated that walking can reduce the risk of heart disease and a wide spectrum of other diseases as well, even among existing overweight populations
Phoenix, AZ (Vocus) December 22, 2009
Numerous studies during the past decade have shown that walking is as effective as running for women in reducing the risk of cardiovascular events and promoting health, provided they engage in a consistent daily regimen of walking such as that provided by the TrekDesk treadmill desk.
One study in particular followed 73,743 postmenopausal women aged 50-79 years by the Division of Preventative Medicine, Harvard Medical School and Brigham and Women's Hospital (Boston) measuring the effect on cardiovascular events of walking versus vigorous exercise such as running and prolonged periods of sitting.
Walking and vigorous exercise showed the the same reduction in risk (30-40%) for cardiovascular events regardless of race, age or body mass index.
"Study after study has illustrated that walking can reduce the risk of heart disease and a wide spectrum of other diseases as well, even among existing overweight populations," stated Steve Bordley, CEO of TrekDesk.com, a treadmill desk manufacturer. "Long term health benefits are gained by keeping the body in motion during the day and in our opinion may be more effective than vigorous or strenuous exercise since individuals are more likely to stay with a program of walking as they age causing less injury, pain or stress to the body."
Not surprisingly, sedentary study participants engaging in more prolonged periods of sitting fared the worse with more numerous incidences of cardiovascular events.
"The challenge for most women is finding the time during the day to walk the alloted minimum 10.000 steps per day (5 miles) to maintain health. Most have occupations that require prolonged sedentary periods in their day, however there is an alternative. TrekDesk attached to a treadmill allows them to walk slowly while they work and achieve their health goals in as little as 3 hours," related Bordley.
TrekDesk is a full sized, height adjustable work station designed to work with virtually any treadmill on the market today. Featured on ABC, NBC, CBS, and FOX network news programs TrekDesk has focused its efforts on educating the public about the health risks of sedentary lifestyles and the benefits of integrating walking back into the work place.
CONTACT:
Steve Bordley
CEO
TrekDesk
Ph: 877-449-8588
FAX: 877-449-8588
http://www.trekdesk.com
###