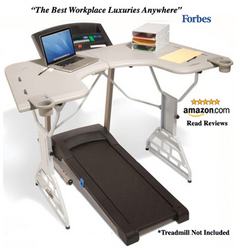 You simply can't get healthy relying on an insurance plan or 30 minutes of exercise a day
Phoenix, AZ (Vocus) November 18, 2010
A survey of 2,800 Dallas, Texas employers from Mercer Consulting, released this week, revealed that 47% plan on shifting a greater percentage of health care costs to their employees. TrekDesk treadmill desks offer a unique solution proven to reduce the cost of health care: walking while working.
"Shifting health care costs to employees is not unique to the Dallas area," stated Steve Bordley, CEO of TrekDesk, "in fact the average out of pocket expense nationally for employees rose 14% this year to $4,000 annually. Dallas was less at 8.5%."
An increase of any kind is hard to swallow for many employees struggling through these challenging economic times. Insurance plans are also raising deductibles, co-pays, and reducing benefits shifting an even greater burden to employees.
TrekDesk offers a unique solution designed to reduce health care costs: prevention through movement.
"84% of all medical claims are the direct result of poor lifestyles and lack of movement," related Bordley. "Living a healthy lifestyle and walking just 10,000 steps per day would reduce the nation's rate of initial heart attacks by 90%, stroke by 70%, type 2 diabetes 50% and cancers by 30%-70%. These are published statistics from the American Heart Association, American Diabetes Association and the National Institutes of Health yet even medical professionals are surprised to hear it."
Americans walk less than 5,000 steps per day contributing greatly to America's obesity epidemic and 58 obesity related disease currently crippling the nation according to research released last month from the University of Tennessee.
Researchers are proving that to remain healthy employees need to move throughout the day and employers need to re-think the office environment to allow movement.
"You simply can't get healthy relying on an insurance plan or 30 minutes of exercise a day," concluded Bordley, "proper diet and movement throughout the day is critical to health and a great way to avoid these rising medical costs."
Designed to fit any existing treadmill, TrekDesk is an affordable, full sized workstation that allows individuals the opportunity to gain the necessary amount of exercise daily to maintain health, prevent disease, strengthen muscles, boost mood and productivity, without requiring additional time during the day or extra motivation.
TrekDesk is currently available for sale online at TrekDesk.com for $479.00 including free shipping.
Join the TrekDesk "Movement Revolution" to learn more on TrekDesk's Facebook page at http://www.facebook.com/pages/TrekDesk-Treadmill-Desk/80743563805.
CONTACT:
Steve Bordley
TrekDesk
Ph: 877-449-8588
FAX: 877-449-8588
info(at)trekdesk(dot)com
http://www.trekdesk.com
###