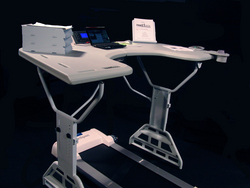 People are initially skeptical that they can move throughout the day but once they start using TrekDesk, they are hooked.
Phoenix, AZ (Vocus) January 5, 2010
A Marist Poll survey of American's top New Years resolutions revealed saving money, exercising more and weight loss were the top three resolutions for 2010.
New Year's resolutions often fail within the first month due to unrealistic expectations, lack of time and motivation however a company known as TrekDesk says this year can be different and is offering a 12 month money back guarantee to prove it.
TrekDesk is a full sized height adjustable desk which attaches to an existing treadmill allowing individuals the opportunity to walk all day while they work (without sweating).
"We are offering the guarantee in addition to our initial 30 day trial," stated Steve Bordley, CEO of TrekDesk. "People are initially skeptical that they can move throughout the day but once they start using TrekDesk, they are hooked. TrekDesk simply allows the body to do what is was designed for: movement, and the health benefits are overwhelming."
TrekDesk is already priced at less than a quarter of the price of most adjustable height desks and 1/10 the cost of some treadmill desks , so the money savings is automatic. Walking during the day also bolsters the immune system so health care costs and lost income due to sick days may decrease as well.
Exercise is automatic with the TrekDesk and weight loss is guaranteed provided there is not an increased caloric intake. "This is a guaranteed winning solution for not only achieving your New Year's resolution but also making it permanent. Maybe 2011 their resolution will be to learn a new language or hobby, since weight loss and exercise will no longer be a challenge," states Bordley.
TrekDesk is a simple answer to a complex set of issues in our society that have led to our current obesity epidemic. Americans simply do not move enough during the day due to sedentary jobs, lack of time and motivation.
While the Surgeon General recommends a minimum 10,000 steps per day (5 miles), the average American adult walks less than 30% to 50% of this amount. Weight gain, illness, low energy levels, and poor mood are the result. TrekDesk allows individuals to achieve this minimum in as little as 3 hours.
Already successfully in use by major corporations such as Humana and Mutual of Omaha, treadmill desks have already been shown to boost productivity, improve mood, prevent disease, restore health and foster weight loss.
TrekDesk is available for sale at a price of $479 at http://www.trekdesk.com and is currently shipping free to any destination within the United States. Details of TrekDesk's New Years Resolution Guarantee may be viewed at http://www.trekdesk.com/Treadmill_Desk_Guarantee.html.
CONTACT:
Steve Bordley
TrekDesk
Ph: 877-449-8588
FAX: 877-449-8588
http://www.trekdesk.com
# # #