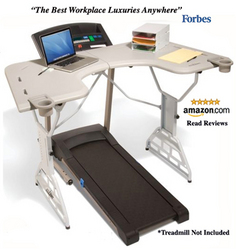 My husband said that of all the things we have ever done, this was the best investment we have ever made.
Phoenix, AZ (Vocus) November 20, 2010
TrekDesk Treadmill Desks, completing their first year of sales, has received favorable reviews nationally as well as featured spots on local news stations. The reviews from North Carolina residents who use the TrekDesk on a daily basis have been excellent.
NL, a physician in Henderson, NC, spoke directly to the productivity benefits of the TrekDesk, even when used sporadically. "On my office half days I usually can do 2-3 hours on it (I have to leave for meetings at times, but usually I get a good 2 hours on it and ideally more). I started to look forward to walking on the TrekDesk and it helped me avoid the "nap" attack that happens at 3pm."
"The reviews TrekDesk is receiving speaks volumes as to the effectiveness of walking while working. Our mission is to start a 'Movement Revolution', convincing Americans that movement throughout the day will dramatically improve their health, mood, weight and productivity. These reviews help ignite the conversation," stated Steve Bordley, CEO of TrekDesk.com.
TrekDesk was designed to be affordable and is a fraction of the cost of its major competitors prompting some potential customers to wonder about its quality.
DS in Charlotte, NC, answered these concerns with her review. "We are extremely happy with our new TrekDesk. It is spacious and very functional. We spend so much more time on the treadmill than we used to. The TrekDesk is a first quality product. My husband said that of all the things we have ever done, this was the best investment we have ever made."
Designed to fit any existing treadmill, TrekDesk is an affordable, full sized workstation that allows individuals the opportunity to gain the necessary amount of exercise daily to maintain health, prevent disease, strengthen muscles, boost mood and productivity, without requiring additional time during the day or extra motivation.
TrekDesk is currently available for sale online at TrekDesk.com for $479.00 including free shipping.
Join the TrekDesk "Movement Revolution" to learn more on TrekDesk's Facebook page at http://www.facebook.com/pages/TrekDesk-Treadmill-Desk/80743563805.
For press requests desiring interviews with the customers mentioned in this release (or other North Carolina TrekDesk users) please contact us at info(at)trekdesk(dot)com.
CONTACT:
Steve Bordley
TrekDesk
Ph: 877-449-8588
FAX: 877-449-8588
info(at)trekdesk(dot)com
http://www.trekdesk.com
# # #