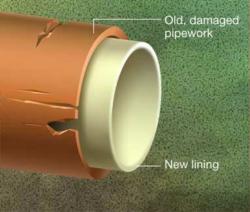 Ask me, Jayson Tart, about our sewer service discounts and drain cleaning discounts.
Philadelphia, PA (PRWEB) May 09, 2013
Trenchless Sewer pipe relining is the process of having a new pipe installed inside your old damaged pipe. It requires a lot less labor and very little disruption to your property.
How Sewer Pipe Relining Works.
After a technician from http://philadelphiaseweranddrain.com has inspected the sewer system and determines that the pipe is damaged they'll first have to clear out the pipe. This can be done through Hydro Water Jetting which forces water through the pipe to eliminate all clogs and debris. If this isn't an option, any obstructions will be removed through other methods such as rooter method.
Once the pipe is clear, then the relining begins. Instead of removing the old pipe and installing a new one, a new pipe will be installed and inserted inside the old one. This secures the pipes strength and prohibits any further leakage into the ground.
Although some minor digging may be required it's not to the extent it used to be where a major portion of the yard was dug up in the past. Most often the relining can be done through the sewers clean out access points installed for sewer service repairs. A flexible tube is filled with an epoxy and resin mix and then inserted into one end of the pipe. Once it makes its way through the pipe a bladder is inserted into the lining and inflated. The lining now presses against the old pipe and within a few hours the mix has hardened. The bladder is then removed and the result is a new pipe that will last for decades and is non-hazardous.
The technician with Philadelphia Sewer and Drain will inspect the pipe once more and once it meets his approval the new pipe will be ready to use. The trenchless sewer service repair that was completed shows the system works more smoothly and those mushy areas and areas with an order will now go away. The new Trenchless seamless pipe repair is typically about a quarter of an inch smaller than the old pipe. In some cases sewer service pipe relining might not be an option, but a certified technician at Philadelphia Sewer and Drain will explain why and go over other options, according to Tart.
Benefits of Trenchless Sewer Pipe Relining

Little, if any disruption to property
No risk of damage to nearby existing pipes
The service time is much shorter
The new pipe has a longevity of nearly 30 years
The pipe is now stronger and not susceptible to roots penetrating them
Jayson Tart, CEO told me that "If you live in the Philadelphia PA area and find that your sewer pipe is cracked or damaged and you need any sewer service repair or drain cleaning in Philadelphia then contact me personally. Ask me about our sewer service discounts and drain cleaning discounts." The technicians at Philadelphia Sewer and Drain.com have assisted homeowners and businesses throughout the area and have other locations at Baltimore Sewer Service.com LLC.
###
Philadelphia Sewer and Drain also specializes in:

Rooter Services
Pipe Thawing
Water Line Installation without Digging
Emergency Underground Sewer Repair
Re-Piping of Water and Waste Lines
Water Jetting Sewers and Waste Lines
Grease Trap Cleaning
Media Contact
Jayson Tart
Philadelphia Sewer and Drain
http://philadelphiaseweranddrain.com
12325 Academy Rd.
Suite 412
Philadelphia, Pa. 19154
(215) 613-4111
Jtsunrise at AOL dot Com