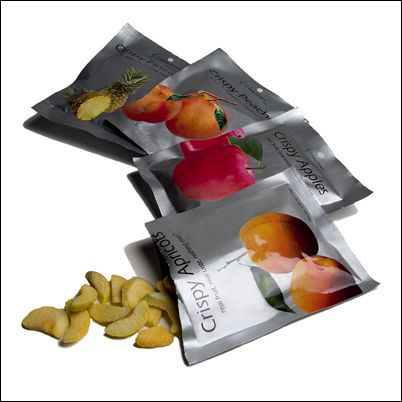 Our delicious, low-calorie snacks have been a hit with our customers and we pledge to continue meeting the needs of those consumers who chose a lifestyle of living well.
West Orange, NJ (PRWEB) March 28, 2007
Crispy Green Inc., the maker of Crispy Green® Crispy Fruit premium, freeze-dried fruit snacks, today announced that Crispy Fruit are an excellent snack food choice for health-conscious individuals. According to Weight Watchers.com, Crispy Fruit is part of a new, top-10 food trend where fruit has a starring role as a snack food.
Crispy Fruit snacks contain 100% high-quality, freeze-dried fruit with no additives, preservatives, fat or cholesterol and each single-serving of Crispy Fruit is 40 calories or less. Crispy Fruit is available in a single-serving size and the handy 'Grab & Go' 6-PACK (six single-servings in one convenient package) in four delicious flavors: Crispy Apples, Crispy Apricots, Crispy Peaches and the newest taste sensation, Crispy Pineapples.
Delicious, Fun & Healthy Anytime
According to USA Today, with obesity concerns as a key driver, dehydrated fruits and vegetables are now popping up in places few chip-loving kids would expect. Crispy Fruit is easy to carry in the lunchbox, backpack, purse or briefcase and is the ideal snack choice for 'on-the go' health-conscious consumers who seek a healthy alternative to traditional snack foods.
The word "snack" often conjures up thoughts of unhealthy foods, but Crispy Fruit is redefining that concept. These light, crisp, tasty, all-natural fruit slices are packed with intense, flavorful fresh fruit taste and one serving of Crispy Fruit equals approximately one serving of fruit. According to TimeOut Chicago, Crispy Green freeze-dried fruits are "making it easier to get your fruit quota for the day."
"We are delighted to offer the marketplace healthy snacks and be part of the newest food trend to help consumers make healthier eating choices," says Angela Liu, President and Founder of Crispy Green. "Our delicious, low-calorie snacks have been a hit with our customers and we pledge to continue meeting the needs of those consumers who chose a lifestyle of living well."
The entire line of Crispy Fruit products can be purchased at supermarkets, natural and whole food stores and fine food stores throughout the United States. A complete list of Crispy Green retailers is available at the Crispy Green online store locator. Crispy Fruit can be purchased online at the Crispy Green Web site at http://www.crispygreen.com/onlinestore.html.
Recently, Food & Wine Magazine named Crispy Fruit as 'one of the tastes you must try in 2007,' Supermarket Guru Phil Lempert praised Crispy Apples as a 'Rising Star' and Women's Health Magazine named Crispy Fruit as one of their favorite 'quick fix' diet aid sweet treats. In August 2006, TIME Magazine named Crispy Fruit as one of the new, healthier foods for kids and The New York Times says, "They're terrific for hikers, to add to morning cereal and for camp and school lunchboxes." Crispy Green has quickly won fans among health and quality-conscious consumers of all ages.
About Crispy Green
Crispy Green Inc. (http://www.crispygreen.com) is the maker of Crispy Fruit freeze-dried fruit snacks sold under the brand Crispy Green® and a leader in this category of products. The company was founded in August 2004 with a core mission to provide delicious, healthy and wholesome snacks using the best natural ingredients with no artificial flavor enhancement.
The Crispy Fruit line of snacks are made of real fruit, real taste, and nothing else!® A sophisticated freeze-drying process removes the water from fresh, sweet fruit, leaving behind the fruit's true essence in a light and crispy texture that's perfect for snacking. Crispy Green Crispy Fruit are a delicious, convenient way to add more fruit to your daily diet.
In 2005, Crispy Green introduced Crispy Apples, Crispy Apricots and Crispy Peaches in the United States. In 2007, Crispy Green launched its newest addition to its all-natural, healthy Crispy Fruit product line - Crispy Pineapples. It plans to add 1-2 new items to its product line each year for the next few years along with its rapidly growing distribution footprint.
###