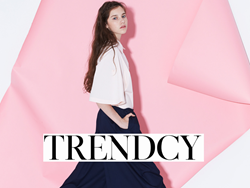 "Trendcy is modernizing how fashion is discovered and purchased. We are dedicated to provide top-notch personalized customer service, free global shipping, live online stylist chat help and made to measure services to our shoppers. " Angela Peng, Trendcy
San Francisco, California (PRWEB) May 13, 2015
Trendcy is a global independent fashion designer hub, launched in February 2013. Trendcy is committed to sell, grow and globally promote high quality independent fashion brands that care about ethical production and sourcing. As such, Trendcy is proud to sponsor Luxury Law Summit in London and learn how to tackle legal challenges in today's highly competitive fashion industry environment from leading brands in the industry.
Luxury Law Summit is organized by The Global Legal Post and media sponsored by The International New York Times. The event will take place on May 19th in London where it will bring together luxury business leaders, luxury legal experts and regulators for high-level networking, debate and informative roundtable sessions.
TRENDCY IS A FULLY WOMEN POWERED FASHION BUSINESS
Trendcy has offices in San Francisco and Barcelona and it's a fully women lead business. Since the website we recruited more then 40 designer brands from over 17 countries. Our curators, fashion industry professionals review their designs, track the progress and new brands and products are added to Trendcy shop daily.
SHOPPERS ARE TIRED OF COOKIE CUT FASHION
Shoppers globally are tired of poor quality mass produced uniformed fashion and are looking for unique, fairly prices pieces which will last for more then one season and can help them express their individual style and personality. We believe that by connecting talented designers and global shoppers, we can personalize, diversify and develop the international fashion market.
YOUNG FASHION DESIGNERS OFTEN LACK BUSINESS SKILLS
Many fashion designers are not discovered due to a lack of network, business and industry knowledge needed to launch their own fashion business. Until now, there was no dedicated fashion networking, mentoring and selling platform for these designers.
Through Trendcy, the designers can enjoy the business services such as PR and marketing, seasonal sample sales, streamlined order management, company sponsorship opportunities and exposure to boutique buyers. So far, our designers have been featured in many top international fashion publications such as: Vogue, Elle, Harpers Bazaar and many others, organized international fashion shows and participated in dozen of Trendcy organized pop-up shops and sample sales to clear inventory.