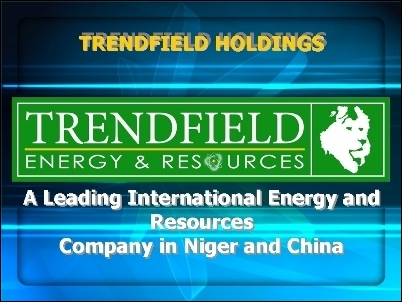 Niamey, Niger (PRWEB) July 24, 2006
Trendfield Holdings a privately owned consulting and mining company whose head office is located in Hong Kong with offices in Beijing, China and a fully owned subsidiary company registered in Niamey, Republic of Niger. Trendfield Holdings has since June 2005, started negotiations between the government of the Republic of Niger and the Chinese state owned company China National Nuclear Corporation (CNNC) for the research and the mining of uranium in Niger.
These negotiations led to this Friday July 14, 2006 signing of 2 (two) exploration licenses following ratification by decree from the Niger Council of Ministers that morning. Signing took place at the Ministry of Mines and Energy in presence of His Excellency the Chinese Ambassador between the Republic of Niger, China Nuclear Uranium Corporation (CNUC) a fully owned subsidiary of CNNC, ZXJOY Invest and Trendfield Holdings. The first perimeter called "Teguidda" with a total area of 1953 km2 is located in the Agadez region where proven reserves of 12 764 tons U were discovered in the last decade by a group of Japanese companies. The second perimeter called "Madaouéla" with a total area of 1872 km2 is located in the Arlit region where proven reserves of 6 191 tons U were discovered in the 1960s by the French Atomic Energy Agency.
The goals of CNNC are to pass from exploration to full production for those 2 (two) proven deposits as soon as possible, the first production for the licence named "Teguidda" being planned for the beginning of 2010. Other partner in these exploration licences are ZXJOY Invest a Chinese investment company specialising in projects funding in the mining, petroleum and telecommunications sectors. The Government of Niger will benefit from a cash injection of more than €98 million euros of which 70% will be paid to the Treasury by the Operator of the two licences before November 30, 2006, the outstanding 30% will be payable to the government of Niger upon obtaining the licences for minings on the two proven reserves.
Trendfield Holdings will have 5% of the capital of the development company to be created in Niger between the State of Niger and the Chinese Operator. The current proven reserves are valued at 1.8 billion United States Dollars.
###