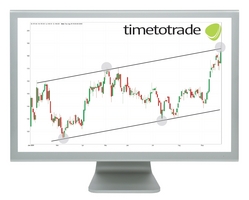 Successful traders always follow the line of least resistance. Follow the trend. The trend is your friend.
Brighton, United Kingdom (PRWEB) October 14, 2009
Throughout history, whether it's stocks or forex, commodities or indices, we see that the financial markets are ruled by trendlines. Today timetotrade has launched "Trend Line Alerts" an exciting new charting tool for private investors which watches the market for you. The tool's "Point-and-Click" alert system is intuitive and easy to use. Investors simply select their chart (stocks, forex, indices and ETFs), draw their trendline and click an alert button. And that's it. timetotrade then monitors the charts letting investors know the instant price crosses the trend line.
And for technical traders, the trendline alerts can be combined with a variety of technical indicators to create compound rules to give you a truly powerful edge on the market. For example, you can set up an alert to notify you when the price hits a trendline followed by the stochastic moving above 20 and a MACD crossover.
The web-based charting package allows investors to draw any number of wedges, channels and support and resistance levels for shares, forex, market indices and ETFs. Whether it takes an hour, day, week or year in to the future - investors will be notified the minute their alert triggers.
Alerts can be sent by email, instant messenger or SMS text to their mobile - so there is no need to miss a trading opportunity or to get caught out by the market again.
As the timetotrade platform is web-based, there is no software to download which means it can be accessed from any computer or web enabled device (including i-phone or blackberry). Investors can monitor up to 5 alerts at any time for free, or subscribe to timetotrade's Active package for 100 alerts (£9.99 per month) or the Pro package for unlimited alerts (£19.99 per month).
The first release of timetotrade's new Trend Line Charting and Alerting tool includes support for:

Trend Line Alerts: when price crosses support, resistance or trendline channels
Technical Analysis Alerts: Popular indicators - Stochastic, RSI, Bollinger Bands, MACD, Moving Averages, Exponential Moving Average, TSI and Williams %R
Multiple condition triggers: positive / negative cross-over; rising / falling threshold; break-out / pull-back triggers
Customisable indicator intervals, periods and parameters for different trading strategies
Instant alerts to email, mobile phone SMS, or instant messenger
Real time quotes: UK Stocks and all major currency pairs EURUSD, USDJPY, USDCHF, GBPUSD, USDCHF, AUDUSD, USDCAD
15 minute delayed: US Stocks (NYSE, NASDAQ, AMEX), National Stock Exchange of India, Singapore and Nairobi Exchanges, Main Markets (FTSE 100, FTSE 250. NASDAQ & S&P 500) and their funds listed
Dary McGovern, Managing Director of timetotrade commented "Whether you're looking to buy into rising uptrends, or to sell short the market to the downside, trend lines give important visual clues about the direction price is moving. Timetotrade's trendline and technical analysis alerts mean you never have to miss that breakout, or take another loss just because you weren't sat in front of your computer. Ultimately, they keep you ahead of the curve and help you make more money."
For further information about Trend Line Alerts or to create a free account visit timetotrade
Further Information
About Trend Lines
Trend lines are one of the most simple and widely used tools of technical analysis to help followers judge entry and exit timing. The basic principle is that investors can make profits from riding chart trends to higher highs or lower lows. To quote Jesse Livermore, one of the most successful traders of all time, "Successful traders always follow the line of least resistance. Follow the trend. The trend is your friend." And time and again, we see his famous words hold true. For example, if we look at a chart of the Google (GOOG), the moment Google broke below its bullish trend channel back in February 2008 (see attached image) gave an indication that all was not well, and provided a warning to traders to liquidate their positions.
How to use Trend Line Alerts
To find out how to use timetotrade Trend Line Alerts click here
About timetotrade
timetotrade is a financial technology company who develop online trading tools for private stock market investors, forex traders and investment clubs.
###