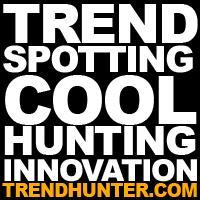 At TrendHunter.com find out what's cool before it's cool!
(PRWEB) October 16, 2007
The world's largest online community for trends, trend spotting and innovation just got bigger. Trend Hunter (TrendHunter.com) is pleased to announce its free online trend database just reached 10,000 trends, just weeks before the release of the much anticipated 2008 Trend Report.
Looking for the next big thing? Trend Hunter features cutting edge innovation, viral news pop culture and undiscovered trends. The site was one of the first to bring you Water Powered Phones, $5,000 Hamburgers, Powdered Alcohol, The Hover Bike, The Half Suit, Virtual Fitting Rooms, and Holographic Fashion Shows hours (days? weeks?) before traditional media.
Trend Hunter's content is an editor filtered list of trends and discoveries from a global network of more than 17,000 Trend Hunters. The Trend Hunters add cool trends to their custom portfolios, and each day, more than 20 of the best trends are published. The site is the source of inspiration for industry professionals, aspiring entrepreneurs and the insatiably curious.
Trend Hunter's founder and innovation expert Jeremy Gutsche notes, "By combing these micro-trends into clusters of inspiration, one can generate ideas, stimulate creativity and ultimately unlock cool." With a background in management consulting and web 2.0, Jeremy brings a rare perspective on how to leverage viral trends to unleash innovation within a business context. Accordingly, Trend Hunter caters to the innovation obsessed.
If you are a journalist and looking for a quote, interview or ideas about trends, trend spotting or innovation, please contact us directly. As MTV puts it, "At TrendHunter.com find out what's cool before it's cool!" - MTV
###