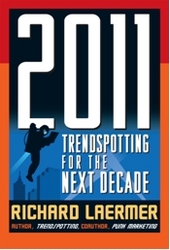 The new ebook is my way of showing folks this was written to be read.
New York, NY (PRWEB) August 5, 2008
Richard Laermer, PR guru, futurist and author of "2011: Trendspotting for the Next Decade," is defining the zeitgeist once and for all -- literally. 2011 provides highly pointed insights on "trendspotting" -- Laermer's word -- that offer good advice with a comedic flair for professionals everywhere.
Pay Attention: The future is free and digital distribution is the future. Leading business into the next decade, Laermer knows a good trend is a prerequisite for business success. Laermer and his forward-thinking publisher, McGraw-Hill, therefore invite readers to read the entire 2011 for gratis at FreeBabyFree.com. No strings or edits or forms to complete. This is the first time a major publisher has provided totally free access to a new book without asking for even a simple sign-up in return.
"2011 is wonderfully suited for this trendsetting idea of offering free digital books," says Herb Schaffner, publisher at McGraw-Hill Trade. "It's a tantalizing prospect for the open source generation...and anyone else, for that matter."
Separating the Ruben Studdards from the Kelly Clarksons, this wide-eyed "reluctant futurist" (Publishers Weekly) distinguishes today's passing fancy from tomorrow's sizzling item du jour. His 77 snack-sized chapters offer easy, concise bites of substantive content. "There's so much 'product' out there from people who aren't writers, just putting out a book for the hell of it." Laermer explains, "The new ebook is my way of showing folks this was written to be read."
Trends turn business into a good time, and spotting the next one is a fine art and a science. Exploring will affect businesspeople in 2011 and beyond, "Laermer is a modern day Nostradamus... sans beard, pointy hat and all that doom and gloom stuff. Open the book to almost any page and glean something useful or insightful," writes blogger Greg Verdino.
Richard Laermer is the nonstop author of seven nonfiction guides to business, including the prophetic "trendSpotting," last year's bestseller "Punk Marketing" and perennial, award-winning "Full Frontal PR." With his latest title, "2011: Trendspotting," the CEO of veteran PR agency RLM forecasts what's to come in the next decade after what he calls "this particularly mediocre one." The book is loaded with topics including business, media, entertainment, society, customer culture, sex, spare time, and more. And he spares nothing and no one to make a humorous point.
About the Author
Richard Laermer is an oft-quoted source on topics regarding media and the future and author of the new "2011: Trendspotting." He is CEO of RLM PR, one of the only independent PR firms that's actually fun to work with. Laermer is also the best-selling coauthor of Punk Marketing, in addition to writing the handbook "Full Frontal PR," 2002's "trendSpotting," and the "Native's Guide to New York" series. Laermer is widely sought as a speaker and media trainer, co-hosted TLC's cult hit Taking Care of Business, and has a following as a commentator for Public Radio's Marketplace program. Laermer is now also a featured writer on HuffingtonPost. His BadPitchBlog, is the industry's watchdog and a recipient of PRSA's Bronze Anvil Medal. He is behind Unspun Radio, available on iTunes. His trend site is Laermer.com.
###