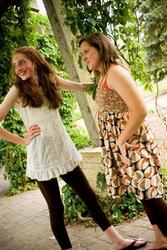 This is just what we've been looking for
Minneapolis, MN (PRWEB) September 17, 2008
Tired of inappropriate, ill-fitting, and poor-quality clothing from big box retailers, Janet Polach, along with her fourteen-year-old daughter Alex, have launched Zelaz, a hip, chic boutique that offers well-made, trendy fashions for teen and tween girls. Zelaz is a virtual boutique with a current storefront at Ridgedale Mall in Minneapolis, MN and now offers a full eCommerce web site at http://www.zelaz.com. And, unlike most retailers, Zelaz exercises social responsibility by giving back 5% of its revenue to programs that support girls with fewer resources.
"Girls want to look fun and tasteful at the same time," says owner and founder Janet Polach. "You won't find hemlines that are too short or pants that offer expressions on the backside. Instead, we offer fashions that allow teens and tweens to express their inner beauty through their outer style." Inventory is purchased from smaller design firms and manufacturers to offer Zelaz clientele clothing that isn't available anywhere. "Our lines grow with the girls," Polach explains. "Many of our lines come in girls and junior sizes, so as girls' bodies change through their middle and high school years, they can find out of the ordinary fashions that fit every age and every body type."
Zelaz is committed to making a difference; it supports charities that have proven track records of improving the lives of all girls. One such charity is girlsBest, a program supported by the MN Women's Foundation, which helps girls strengthen their self-esteem, leadership, and activism.
The reaction from mothers thus far has been enthusiastic and gratifying. "This is just what we've been looking for," said Susan Ableson, mother of thirteen and seventeen year old daughters. "Stylish, fresh, and in good taste. I'd be thrilled to have my daughters wear anything in the store!"
Zelaz is a Twin Cities based company that offers chic fashions for everyday and special occasions. Its uncommon clothing inspires and delights its clientele, and it is committed to less advantaged girls in its community.
Inquires can be directed to Janet Polach, 952.925.0145. http://www.zelaz.com
# # #