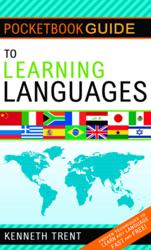 A truly inspirational and helpful guidebook for every language learner!

- Jolien Schittko of Germany (a lifelong language learner and speaker of seven languages)
Graham, WA (PRWEB) January 10, 2012
Kenneth Trent, language and motivation strategist, announces the release of his new book, The Pocketbook Guide to Learning Languages, to be available at selected bookstores and online at Amazon, and Barnes & Noble.
The Pocketbook Guide to Learning Languages incorporates Kenneth's research and experience learning several languages and shares proven techniques to learn any language quickly, efficiently, and without expensive programs.
"I'm trilingual, and I've spent years studying several other languages," says Trent. "I've always had a great love of languages, which eventually led me to research the language learning process while attending graduate school."
Trent's new book emphasizes natural language learning, cost-cutting approaches, principles of language motivation, and how to structure language learning without a program. The book includes academic research without complicated jargon and clearly presents ideas and concepts that can be easily applied.
Trent has never needed to use a language program and believes effective language learning can happen on a tight budget. "The process of learning a language is surprisingly simple. It just takes a focused approach, a dedicated constitution, and an understanding of what affects motivation," Trent says.
In addition to covering the process of how to learn a language, The Pocketbook Guide to Learning Languages also includes strategies to build language learning into everyday life. One such strategy focuses on mass media as part of a language student's daily routine.
The Pocketbook Guide to Learning Languages details the requirement of motivation in the language learning process. "Motivation is the single greatest indicator of the rate of language acquisition. The more motivated a person is, the faster they will learn a new language," Trent says. "Understanding motivation is the real gem of my book."
Visit http://www.TrentBooks.com for more information about The Pocketbook Guide to Learning Languages or to download Kenneth's free eBook, 11 Lessons for Learning Languages.
About the Author
Kenneth Trent earned a Master of Arts degree in mass communication at Brigham Young University, received a Bachelor of Science degree from Brigham Young University-Idaho, and is currently pursuing a Masters of Business Administration degree at Pacific Lutheran University. In addition to English, Kenneth is fluent in Spanish and Guarani, is conversant in Portuguese, and has studied Biblical Hebrew, Ancient Greek, German, and Japanese. Kenneth currently runs a language and motivation strategy blog at http://www.TrentBooks.com/blog.
Contact Information for questions, interviews, or book signings:
Kenneth Trent
Kenny(at)TrentBooks(dot)com
801-319-4018
OR
Kirt Forakis
Marketing Director
kforakis(at)cedarfort(dot)com
2373 West 700 South
Springville, UT 84663
P – 801-477-9033
F – 800-388-3727
http://www.cedarfort.com
###