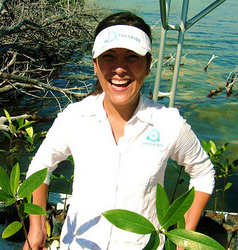 The Mexican government recently recognized Tres Ríos for being at the fore of environmental stewardship.
(PRWEB) March 3, 2010
The eco-friendly resort, Hacienda Tres Ríos, donated 3,000 red mangrove trees to Nichupte Lagoon's reforestation efforts that will begin today in celebration of World Wetlands Day.
The resort actively participated in the commemoration of this important day by providing over 90 percent of the red mangroves to be planted on this special occasion in this area of protected flora and fauna.
The ecotourism resort of Hacienda Tres Ríos and its nature park are recognized as a model for sustainable tourism development both regionally and nationally by the Secretariat of Environment and Natural Resources (SEMARNAT).
The director of sustainable development for Tres Ríos Group, Gabriel Santoyo, stated that the donated mangroves were approximately one year old and were produced in the nursery of Tres Ríos Nature Park as part of the reforestation program authorized by SEMARNAT.
Mr. Santoyo explained that seven people from the nursery will serve as technical guides to nearly 60 volunteers who will participate in this reforestation program organized by the Environmental Education and Diffusion Committee of the Benito Juarez municipal district in Cancun. This committee was formed with the cooperation of the Municipal Department of Ecology, University of the Caribbean, SEMARNAT, Amigos de Sian Ka'an, and the National Commission of Natural Protected Areas (CONANP), among other public and private entities.
According to the Environmental Education and Diffusion Committee, they expect to plant 700 red mangroves (Rhizophora mangle) throughout Nichupte Lagoon. The reforestation will continue over the next few days with a total of 3,150 trees being planted.
Mr. Santoyo indicated that the ecotourism complex of Tres Ríos will continue to lend support to reforestation programs throughout the year with the help of its nursery, which has produced and reforested more than 80,000 plants over four years.
Located in Tres Ríos Nature Park in the Riviera Maya, Hacienda Tres Ríos is an exclusive endless luxury, all-inclusive resort with 273 suites, recognized for its eco-friendly practices through the intelligent and responsible use of the region's ecosystems and natural resources.
Hacienda Tres Ríos has been certified as an official ecological hotel by international organizations such as Green Globe International and is a member of the World Heritage Alliance of the United Nations Foundation. The resort is also a member of Sustainable Travel International and works in cooperation with the Rainforest Alliance to support exceptional environmental practices.
Cancun celebrated World Wetlands Day with the participation of principal municipal authorities, government agencies, and civil organizations.
About Hacienda Tres Rios
Nestled in a 326-acre pristine nature park in the Riviera Maya, Mexico, Hacienda Tres Ríos is an endless luxury, all-inclusive resort in the Mexican Caribbean, forty-five minutes south of Cancun International Airport. Opened in November 2008, Hacienda Tres Ríos is the first resort of five at Tres Ríos Nature Park. The resort boasts 273 suites using natural materials and featuring breathtaking views of the tranquil Caribbean Sea. At the forefront of sustainable tourism development, Hacienda Tres Rios creates amazing guest experiences while also protecting the region's natural beauty and cultural heritage. The Tres Ríos Nature Park is open exclusively for resort guests, and offers guided nature tours through mangrove forests, snorkeling in cenotes and rivers, and daily activities for children. For more information, visit.
# # #