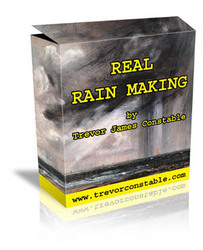 "I have been successfully making rain and breaking droughts for decades. Now you can see, with your own eyes, how it is done!"
Spokane, WA (PRWEB) October 14, 2010
Trevor James Constable reveals his incredible eco-friendly, drought-relieving technology to the public in book and video format, which is available as a downloadable package at http://www.trevorconstable.com.
Internationally recognized aviation historian and career Radio Communications Officer in the US Merchant Marine, Trevor James Constable, reveals an effective new method of weather modification. In stark contrast to conventional "cloud seeding", the new rain making techniques do not disperse any chemicals into the air.
In addition to the rain making process, effective methods have been developed to lift fog for maritime safety, calm winds to help fight wild fires, and weaken large storms to minimize damage. These technical breakthroughs have been demonstrated hundreds of times in North America, Hawaii, and South East Asia, and are thoroughly documented by film, weather radar, and eyewitness reports.
At his official website, Constable offers all of the documents which verify these claims. This includes two books and six films to both explain and demonstrate to the public what the technology can do. The Real Rain Making package brings together all of the best evidence of these accomplishments, and represents a lifetime of work in this field.
After two decades of effectively proving how to alleviate droughts, using a "no rain, no pay" business model, he is turning to the public. "It's time to simply inform the public about what has been technically accomplished, and what benefits are available to society" Constable says. On an annual basis, extreme weather causes the destruction of Billions of dollars worth of agriculture and property. Unfortunately, decision makers remain reluctant to seriously explore this solution, even though it could mean lower food prices, lower energy bills, and greater public safety. "Since most politicians are unwilling to be associated with something totally new, it is time to inform the public directly" he says.
For additional information on Real Rain Making, visit http://www.trevorconstable.com.
About the Author:
Trevor James Constable has devoted over 30 years of his life to the development of an environmentally clean, natural process to engineer the production of rain -- without spraying any chemicals into the air. This accomplishment was over and above his professional career, where he spent 26 years in the US Merchant Marine as a Radio Communications Officer and co-authored 10 books, including 4 historic biographies of the best World War II Fighter Aces, establishing himself as an internationally respected aviation historian. All of the weather engineering research was privately funded by Mr. Constable and his associates and is available to benefit a waiting world.
To schedule an interview with Trevor James Constable, please contact:
Peter Lindemann, D.Sc.
A & P Electronic Media
509-921-6960
peter(at)emediapress(dot)com
###