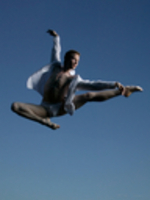 Year 1 was all about building and realizing what we want to be as a dance company
Boise, Idaho (PRWEB) July 21, 2009
In what can only be described as a ferociously ambitious inaugural year, Trey McIntyre Project finished its first season as a full-time dance company with a remarkable list of accomplishments. Under the leadership of internationally-renown choreographer, Artistic Director Trey McIntyre, the dance company:
Toured 26 cities across the U.S. and Internationally to full and sold-out houses including International and European debuts in Santo Domingo and Budapest
Expanded Trey McIntyre Project's repertoire, adding four new ballets including two commissioned pieces
Earned triumphant reviews and national media acclaim, including feature and cover story recognition in The New York Times, Pointe Magazine, Los Angeles Times, and The (New Orleans) Times Picayune.
Established new headquarters in Boise, Idaho
Enjoyed successful company debut runs throughout the season including Jacob's Pillow, New York City, Los Angeles and Hungary.
Won prestigious grant awards from esteemed organizations including the M.J. Murdock Charitable Trust, the National Endowment for the Arts, The James Irvine Foundation, Multi-Arts Production (MAP) Fund, a program of Creative Capital supported by the Doris Duke Charitable Foundation and the Rockefeller Foundation, Mid-Atlantic Arts Foundation, National Dance Project of the New England Foundation for the Arts, and the Boise City Department of Arts and History Anchor Fund Grant.
The company ended Year 1 with a surplus, unheard of for burgeoning dance companies.
Won the 2009 Alfred P. Sloan Awards for Business Excellence in Workplace Flexibility.
"Year 1 was all about building and realizing what we want to be as a dance company," said Trey McIntyre, founder and artistic director of Trey McIntyre Project. "The returning dancers each grew so much in the course of one year and the new dancers joining the company add a tremendous amount to the group. I look forward in Year 2 getting richer in the roles we have etched out and finding out more of what is possible. The premiere of The Sun Road is of particular significance because it is the first time I get to combine two mediums I have worked in separately: video and live performance.."
John Michael Schert, Trey McIntyre Project executive director and artist, announced the company's tour schedule for its sophomore season. The year will include two commissioned, multimedia works. Both of these separate commissioned ballets will include McIntyre's film creations and will premiere at Wolf Trap National Park for the Performing Arts and the Orange County Performing Arts Center.
The Year 2: 2009-10 Performance Schedule is as follows*:
2009
Yulee, FL.: July 19 - August 17 White Oak Plantation
Vienna, VA (Washington, D.C): August 19 Wolf Trap National Park for the Performing Arts Commissioned Premiere
Sun Valley, ID: August 27-28 Sun Valley Pavilion
Easton, PA: September 9 Lafayette College
Huntingdon, PA: September 11 Juniata College
Kennett Square, PA: September 13 Longwood Gardens
Butler, PA: September 15 Butler County Community College
Erie, PA: September 18 Mercyhurst College
Reading, PA: September 20 The Miller Center for the Arts
Orange County, CA: October 2-3 Orange County Performing Arts Center Commissioned Premiere
Boise, ID: October 17 Morrison Center for the Performing Arts
Billings, MT: October 21 Alberta Bair Theatre
Lawrence, KS: October 23 Lied Center of Kansas
San Francisco, CA: October 30 San Francisco Jewish Community Center
Austin, TX: November 11 UT Austin Performing Arts Center
Houston, TX: November 13 Society for the Performing Arts - Cullen Theater
Boston, MA: November 20-22 Institute of Contemporary Art
2010
Boise, ID: February 13 Morrison Center for the Performing Arts World Premiere
Temecula, CA: February 26-27 Temecula Presents
Milwaukee, WI: March 1-9 Marcus Center Milwaukee Residency
Seattle, WA: March 18-20 UW World Series Meany Hall
Nashville, TN: April 7 Vanderbilt University Great Performances
Atlanta, GA: April 10 Rialto Center for the Arts at GSU
Rapid City, SD: April 13 Black Hills Dance Theatre
Sioux Falls, SD: April 17 Washington Pavilion
Long Beach, CA: May 22 Carpenter PAC at CSU Long Beach
Boise, ID: June 4-5 BSU Special Events Center World Premiere
*More performances may be added, so check Trey McIntyre Project Tour Schedule for up-to-the-minute information.
Select quotes:
"Fast-paced and daring, McIntyre's choreographic style mixes classical ballet with a number of contemporary movement idioms. When so many people are trying to figure out how to make ballet accessible, McIntyre is doing it." - Dance Magazine
"It takes guts to take the reins like choreographer Trey McIntyre." - Boston Globe
"Watching Mr. McIntyre's work, it's easy to see why he is successful. (He) taps into the music with vigor, and finally the dancers are more than just spirited performers; they are spirits in the flesh."" - New York Times
"[McIntyre's] contemporary ballets, in effect, are exceptionally musical. They grow out of the music and never seem to depart from it." - Palm Beach Artspaper
"It is difficult to describe in a single word exactly how marvelous the Trey McIntyre Project is." - Diario Libre (Dominican Republic)
About TMP - Four years ago, Trey McIntyre Project burst onto the national dance scene as a summer troupe, with debut performances at The Vail International Dance Festival. TMP's "fresh and forward-thinking choreography" (Washington Post) was an immediate sensation with both critics and audiences alike. Led by celebrated choreographer Trey McIntyre, whose work has been commissioned by American Ballet Theatre, Stuttgart Ballet and many other top ballet companies around the world, TMP also boasts an ensemble of top professional dancers who have danced with companies such as American Ballet Theatre, The Washington Ballet, Alonzo King's LINES Ballet, Ballet Memphis and Boston Ballet. In 2008, Trey McIntyre launched as a full-time company, touring in the U.S. and internationally. For more information, visit http://www.treymcintyre.com.
###