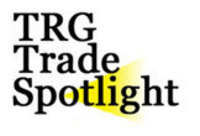 We have over 6,500 customers, that's a reader base. We want to help some of the SMEs in that mix to tell their story and with hope gain a few more customers from the recognition
Bozeman, MT (Vocus) October 8, 2010
The TRG Trade Spotlight is an electronic newsletter or Enzine, released by Trade Risk Guaranty (TRG). The publication provides content relative to the International Trade industry. The primary purpose for the TRG Trade Spotlight is to keep TRG's customers up-to-date on old and new Customs regulations that may have an impact on their business practices.
The Customer Spotlight section is new to the monthly article. Highlighted here, is one of TRG's unique customers. In order for TRG to feature the business, the customer must submit their interest to TRG and provide a short background on what makes their company stand out. The TRG Trade Spotlight will then provide a description of the business and a link to the company's website. "We have over 6,500 customers, that's a reader base. We want to help some of the SMEs in that mix to tell their story and with hope gain a few more customers from the recognition," Jena Leary, TRG's Marketing Director, states.
Of course, no Ezine would be complete without a one-of-a-kind crossword puzzle. The company is offering subscribers a fun and challenging crossword puzzle that features questions based on the import and export industry. Answers to the monthly puzzles are found on the company's website. http://traderiskguaranty.com/crossword.aspx
Kathryn Shaw, Marketing Analyst for TRG acknowledged, "By adding the new features to the TRG Trade Spotlight, we anticipate our customers will become more engaged in each release and begin to relate more to TRG as a vendor. In addition, we hope our customers will find the new features entertaining. Let's face it, finding the fun factor within the rules and regulations of International Trade can be tricky. Hopefully the crossword puzzle and Customer Spotlight will be enjoyed by our readers." To view past TRG Trade Spotlight articles please visit http://traderiskguaranty.com/TRGSpotlightArchives.aspx.
About TRG:
TRG is an import solutions provider marketing its products directly to the importer. These products include U.S. Customs import bonds, shipping insurance (freight insurance) and direct filing of U.S. Customs entries and Importer Security Filing. Trade Risk Guaranty (TRG) Brokerage Services LLC is a licensed insurance agency, having agency agreements with Hanover Insurance Company of Worcester, Massachusetts, and Great American Insurance Company of Cincinnati, Ohio, both of which are insurance companies approved by the Department of the U.S. Treasury to issue U.S. Customs bonds.
Contact:
Kathryn Shaw
Trade Risk Guaranty (TRG)
406-922-6525
###