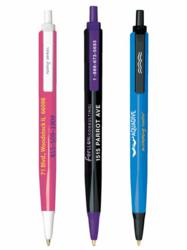 New York, NY (PRWEB) July 26, 2012
BIC Promo Pens is proud to announce the addition of the popular BIC Tri-Stic promotional pen to its line of customized advertising pens. BIC is a worldwide pen phenomenon that we all know, with consumers buying more than 25 million BIC stationary products around the globe each day. Most of us know BIC through the clear Cristal® ballpoint pen, a world-renowned classic design that we learned to write with in school. But the BIC line of pens is so much more – an essential item in any company's marketing and branding arsenal.
The BIC Tri-Stic promotional pen is a clean, simple and highly cost-effective way to get corporate recognition into the hands of the widest range of clients possible. For more than 35 years, BIC Promo Pens has been working together with companies in a number of different industries to help them create, enhance and maintain brand recognition through the distribution of promotional pens. At less than one dollar per pen, BIC Tri-Stic pens are some of the most affordable promotional pens available.
These advertising pens are completely customizable, with more than a dozen colors to choose from, and a design that allows selection of different colors for the barrel AND the trim. The pen's three-sided design means a different message or logo can be imprinted on each side, even including on the clip on some designs! Not content with just a basic logo pen? The BIC Tri-Stic line ranges from basic pen designs to pens with clear barrels, foam grips, wide bodies with rubber grips, and even magnet pens that help clients keep these promotional pens handy at all times. Each Tri-Stic pen is fully customizable with a logo and corporate contact information, and BIC Promo Pens provides ink imprinting in more than a dozen colors. With ink refills that provide more than a mile of writing length, the BIC Tri-Stic promotional pen is the easiest way to get a company's information into the right hands – the client's!
To view the BIC Tri-Stic line of writing instruments, visit http://www.bicpromopens.com/promotional-bic-tri-stic-pens.html.
About BIC Promo Pens:
BIC Promo Pens has helped over 300,000 clients increase brand awareness and customer loyalty through their high quality products. BIC Promo Pens can provide any company with quick and easy delivery within 48 hours to any city in the United States at no additional cost. To get more information about BIC pens and other printed promotional pens, please visit the BIC Promo Pens website.