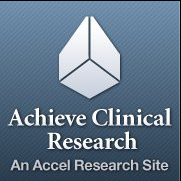 Birmingham, Alabama (PRWEB) January 22, 2013
**Achieve Clinical Research is now enrolling for Asthma Clinical Trials in Alabama. To get started, visit Achieve Clinical Research or call us directly at (205) 380-6434.
BACKGROUND & RATIONALE
Asthma is a chronic disease characterized by airway inflammation, airway hyperresponsiveness, and episodic bronchoconstriction. It is estimated that approximately 300 million people worldwide are affected by asthma; this number is expected to increase by an additional 100 million by 2025. Because both neutrophils and eosinophils are thought to play a key role in lung inflammation in asthma, there may be 2 clinical subtypes of severe asthma, eosinophilic and neutrophilic, based on the relative number of these cells in the lungs and airways (Douwes 2002, Gibson 2001, Wenzel 1999). Inhaled corticosteroids are the mainstay of asthma therapy; however, certain asthmatic individuals show little or no benefit from existing corticosteroid therapies, even at high doses. These individuals, described as "steroid resistant," have an urgent need for effective anti-inflammatory therapies.
You can also learn more about the symptoms of asthma here.
PRIMARY OBJECTIVE
To evaluate the effect of a new asthma drug on lung function in subjects with asthma inadequately controlled by corticosteroids as measured by absolute change in percent predicted forced expiratory volume in 1 second (FEV1) .
STUDY DESIGN
This is a randomized, double-blind, placebo-controlled, parallel-group, repeat-dose, Phase 2 study over 36 weeks (including screening and follow-up periods) in subjects with asthma inadequately controlled by corticosteroids. Subjects taking oral corticosteroids in addition to inhaled corticosteroids on a chronic basis will comprise approximately 20% to 40% of the study population. This subgroup of subjects will be required to have been on oral corticosteroids for at least 12 weeks prior to screening and to have been on a stable dose and treatment regimen for at least 4 weeks prior to screening. Eligible subjects will have evaluations during screening that demonstrate a diagnosis consistent with asthma.
INCLUSION CRITERIA
1. Obtained written informed consent/assent.
2. Males or females aged 16 to 75 years inclusive at Screening Visit.
3. Females of childbearing potential may participate if they have a negative pregnancy test, are nonlactating, and agree to practice a highly effective birth control method (e.g., abstinence [when this is the usual life style choice of the subject], combination barrier and spermicide, hormonal) for the duration of the study and for 6 months following the last dose of study drug.
4. Physician diagnosis of asthma established for at least 2 years prior to Screening Visit.
5. Symptomatic asthma defined as having an ACQ score ≥1.5 at Screening and Randomization Visits.
6. Symptomatic asthma despite chronic treatment with inhaled corticosteroids ≥500 μg/day fluticasone (dry powder or hydrofluoroalkane [HFA] inhaler) or budesonide, or equivalent doses of other inhaled corticosteroids, for at least 12 weeks prior to Screening Visit. A stable dose is required for at least 4 weeks prior to Screening Visit.
7. For the subset of subjects taking oral corticosteroids, asthma is symptomatic despite treatment with ≥7.5 mg of prednisolone or equivalent per day or a comparable regimen for at least 12 weeks prior to screening. A stable dose is required for at least 4 weeks prior to Screening Visit.
8. Currently receiving inhaled long-acting beta agonist (LABA) and/or long acting antimuscarinic agent (LAMA).
9. FEV1 from 40% to 80% of the predicted value at Screening and Randomization Visits (see the Spirometry Manual).
10. At Screening or Randomization Visits, demonstrated FEV1 bronchodilator response of ≥12% (i.e., reversibility) from baseline measurements 15 to 30 minutes after SABA administration (Section 9.3.5.1).
11. At least 2 exacerbations (no more than 6) in the previous 12 months that required systemic corticosteroids or at least a doubling of daily oral dose for 3 or more days.
12. Weight from 40 to 125 kg at Screening Visit.
13. Ability to perform spirometry tests according to protocol-specified standards as indicated in the Spirometry Manual.
14. CXR within 12 months of Screening Visit with no evidence of clinically significant abnormality. For subjects who have had an intervening significant cardiac or pulmonary event, a post-event CXR should be obtained.
15. Ability to understand and comply with study requirements including study visits, diary completion, and daily peak flow measurements, as demonstrated during the run-in period.
**To learn more about getting started with this paid Asthma Clinical Trial, stop by Achieve Clinical Research in Birmingham, Alabama or give us a call at (205) 380-6434.