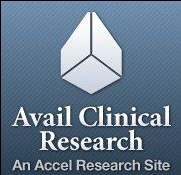 DeLand, Florida (PRWEB) January 21, 2013
**Avail Clinical Research is now enrolling for a Type 2 Diabetes Clinical Trial in Florida. To get started, visit Avail Clinical Research or call us directly at (386) 310-1334.
BACKGROUND & RATIONALE
Type 2 diabetes (T2DM) is one of the largest medical burdens in the United States. At present it is estimated that 25.8 million people in the US have diabetes (8.3% of the population) of which 7 million remain undiagnosed. It is projected that the number of people with diabetes will more than double by the year 2050.
Approximately 85% of patients with T2DM are obese or overweight, a key factor underlying the development and maintenance of insulin resistance. Individuals with T2DM have an increased risk of developing both microvascular and macrovascular disease associated complications, including nephropathy, neuropathy, retinopathy, and cardiovascular disease, and are 2 to 4 times more likely to die from cardiovascular disease than adults who do not have diabetes.
Coronary heart disease (CHD) with underlying atherosclerosis continues to be the leading single cause of death in industrialized countries. Increased plasma triglycerides have been associated with CHD as a significant independent risk factor in addition to well known and close associations with other lipid (remnant lipoproteins, LDL particle size and low HDL levels) and non-lipid (hypertension, smoking, diabetes, obesity, low activity levels and atherogenic diet) risk factors in metabolic syndrome.
You can also learn more about the symptoms of Type 2 Diabetes.
PRIMARY OBJECTIVE
To evaluate the safety and tolerability of multiple intravenous doses of a new drug, administered once weekly to obese adult subjects with hypertriglyceridemia with and without T2DM.
STUDY OVERVIEW
This is a randomized, parallel arm, double-blind, placebo-controlled, multiple intravenous dose study of a new diabetes drug. The primary purpose of this trial is to evaluate safety, tolerability, pharmacokinetics and pharmacodynamics of multiple IV doses of this new drug when administered once-weekly to hypertriglyceridemic subjects with and without T2DM.
The subjects, investigator, site personnel (except site personnel responsible for drug
preparation) and clinical research team will be blinded to treatment. Further, the CRA performing source document verification will be blinded to treatment however separate CRAs responsible solely for study drug records review and drug reconciliation may be unblended.
INCLUSION CRITERIA
Subject eligibility should be reviewed and documented by an appropriately qualified member of the Investigator's study team before subjects are included in the study.
Subjects must meet all of the following inclusion criteria to be eligible for enrollment into the study:
1. Male subjects and female subjects of non-childbearing potential between the ages of 30 and 70 years, inclusive, with hypertriglyceridemia defined as fasting triglycerides as follows:

Subjects who are lipid modifying therapy treatment naïve:
-- Screening: 350 mg/dL and not to exceed 1000 mg/dL.
-- Day -8: 250 mg/dL and not to exceed 1000 mg/dL.
Subjects who are currently taking 1 or 2 lipid modifying therapy(ies) (eg, statin, fibrate, fish oil, BAS, ezetimibe):
-- Screening: 250 mg/dL and not to exceed 1000 mg/dL.
-- Day -8: 250 mg/dL and not to exceed 1000 mg/dL.
Subjects who have other conditions but are well controlled by either diet or medications may be included as well (for example, a subject with hypertension on appropriate treatments is eligible).
2. Body Mass Index (BMI) of 30 to 45 kg/m2, and a total body weight >50 kg (110 lbs).
3. HbA1c 6.4% at Screening, confirmed by a single repeat if deemed necessary.
4. Evidence of a personally signed and dated informed consent document indicating that the subject (or a legal representative) has been informed of all pertinent aspects of the trial.
5. Willing and able to comply with scheduled visits, treatment plan, laboratory tests, and other trial procedures.
To learn more about getting started with this paid Type 2 Diabetes Clinical Trial, stop by Avail Clinical Research near Orlando, Florida or give us a call at (386) 310-1334