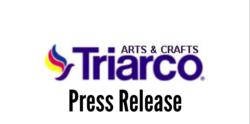 JGM is flexible
(PRWEB) April 04, 2013
Minneapolis commercial real estate owner JGM Properties recently signed a lease with Triarco Arts & Crafts, LLC, to rent Plymouth office space.
Triarco was founded in 1946 and is proud to continue to provide quick processing, fast delivery, and great service to its customers. Three mail-order companies operate under the umbrella of Triarco Arts & Crafts, LLC: Triarco, Benton-Kirby, and Good Time Attractions (GTA).
The Triarco Arts & Crafts Catalog is an all-inclusive arts and crafts supplies catalog offering K-12 teaching materials and classroom equipment for drawing, painting, ceramics, jewelry making, sculpture, printmaking, textiles and weaving, stained glass, woodcraft's, and more. Triarco offers many exclusive products not available anywhere else: ArtiSelect products (drawing and sketch pads, artist-quality acrylic paint, and brushes), Tri-Ink water-based block printing ink, Tri-Crylics acrylic paint, Triarco tempera paint, and Rollaway Rackaway™ drying racks.
Serving the needs of hospital gift shops, auxiliaries, elderly care, and other retail facilities, the Benton-Kirby Wholesale Gift Shop Catalog offers a great mix of products, including popular licenses and a great selection of "Pink Ribbon" themed merchandise. From toiletries and stationery to toys and quality gifts, there's something for everyone!
Good Time Attractions is a supplier of carefully selected toys and novelties. In the GTA catalog, you'll find school store items, dental treasures, pediatric prizes, novelties, school and church carnival supplies, birthday prizes, holiday items, toys, gift-ware, and lots more.
For more information and to view product lines, visit eTriarco.com, eBentonKirby.com, and eGoodTimeAttractions.com. Triarco, Benton-Kirby, and GTA, divisions of the Aristotle Corporation, publish mail-order catalogs serving customers worldwide. The Aristotle Corporation has facilities located in Plymouth, Minnesota; Fort Atkinson, Wisconsin; Modesto, California; Otterbein, Indiana; Saugerties, New York; Fort Collins, Colorado; Chippewa Falls, Wisconsin; and Newmarket, Ontario, Canada.
Representatives from Triarco were introduced to JGM Properties by Darrin Dufresne, a Minneapolis commercial real estate broker, and President of Blue Lake Commercial. This meeting resulted in a mutually beneficial opportunity for JGM and Triarco to work together to satisfy Triarco's need for suburban Minneapolis office space.
The new space will be ready for Triarco to occupy sometime in June, 2013. When asked to comment on the overall experience, Terry Clayton of Triarco said "Eli was very flexible and worked closely with us to come up with the right space at the right price".
JGM Properties is a small family owned Minnesota commercial real estate property management company. JGM has a portfolio which includes over 1 million square feet of office, warehouse, and retail spaces for lease. JGM is host to more than 200 tenants, located in several suburban St Paul / Minneapolis commercial real estate properties. With a total of 12 locations in the Twin Cities, JGM specializes in the re-purposing and upgrading of deferred maintenance commercial properties in Minnesota.
For more details visit the JGM website: http://www.jgmproperties.com