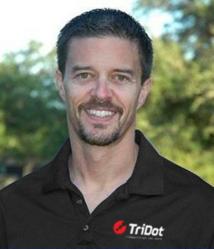 We are very excited to be part of such an innovative program like TriDot.
Dallas, TX (PRWEB) August 21, 2012
TriDot announced sponsorship with the Champion System. Champion System specializes in custom apparel for a wide range of sports including cycling, triathlon, and running as well as other sports. TriDot is the innovator of the first and only triathlon training system that uses a methodical process based on actual athlete training and race data. Its Triathlon Training programs allow athletes to maximize their race results per hour of training invested.
Champion System was selected as the official TriDot sponsor because of their commitment to their product. They combine love of sport with vast knowledge to ensure clients have a high quality product. The Champion System mission states, "we are committed to offering high quality products and outstanding customer service".
Champion System CEO Scott Kaylin states, "We are very excited to be part of such an innovative program like TriDot. Champion System strives to always be on the cutting edge of the endurance world. This partnership is a true example of that."
Champion System takes an entirely new approach to custom teamwear ensuring that no longer would customers have to pay absurd prices, endure confusing price structures, be limited to using only a few colors and have high minimums forced upon them.
"Our athletes have truly enjoyed training and competing wearing the Champion System apparel," says TriDot CEO and Founder, Jeff Booher. "We're continuously getting great feedback on both fit and quality of fabric. With such a large and diverse group of athletes, we've really appreciated the wide selection of items that Champ Sys makes available to our athletes."
About TriDot
The TriDot® System is a one-of-a-kind, patents-pending triathlon training and racing system developed based on extensive and ongoing primary research since 2004. The TriDot® System's Intelligent Design Process (IDP) is a data-driven process that produces optimized training programs built for each athlete that deliver maximum results per training hour invested (Result: more performance gains and/or less training time). Serving beginners to professionals, the TriDot® System takes the guesswork out of triathlon training and racing.
This Press release was created and distributed on behalf of TriDot by Prism Communications Inc. Prism Communications is a full service internet marketing company that cuts through the myriad of internet marketing tactics and develops a coherent strategy for companies looking to grow their online presence. To learn more about Prism Communications, or to contact them for a free consultation for internet marketing solutions, email them at sam(at)prism-communications(dot)com.