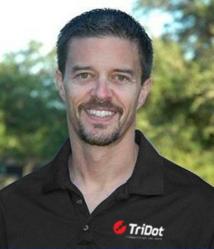 What I love about FCA Endurance is that their purpose is racing for God and His glory for the benefit of others.
Dallas, TX (PRWEB) August 07, 2012
TriDot announced a partnership with FCA Endurance to offer TriDot training programs and coaching to FCA Athletes. FCA Endurance's purpose is to accomplish the vision and mission of the Fellowship of Christian Athletes' (FCA) within the endurance sports world through athletes living and competing for God's glory. The TriDot approach allows athletes to maximize their race results focusing training on all aspects of training--physical, mental, and spiritual.
FCA Endurance National Director Chris Anderson states, "FCA Endurance thanks the Lord for individuals and companies who are called to boldly stand with us as we make disciples of Jesus Christ within the endurance community. In this regard, we are excited to announce that TriDot has partnered with us in our mission through becoming a National Corporate Ministry Partner. Their partnership and investment in our ministry is a wonderful blessing, and we celebrate their commitment to the Lord's work within the sport of triathlon!"
The key for both TriDot and FCA Endurance is that through coming together, those on the Team are able to experience the countless blessings of Christian community with those whom they share an endurance passion. More importantly, they feel they are able to have a much bigger impact on the endurance world together than they could independently.
"Everyone who participates in the sport of triathlon does so with a purpose," says TriDot CEO and founder, Jeff Booher. "They have something that drives and motivates them. What I love about FCA Endurance is that their purpose is racing for God and His glory for the benefit of others. I see so many noble and worthy 'causes' to race for in this temporal world. But what higher cause is there to race for than to generate awareness that we all have access to the cure for death found through Jesus Christ. We consider our support for FCA Endurance an investment in eternity for all those who will learn about Jesus through them. It's our privilege."
FCA Endurance gives adult Christian runners, triathletes, and cyclists, as well as all who support endurance athletics the chance to tell the world why they do the things they do and why they are the people they are. Our ministry's purpose is to unite those who are competing for Christ and equip them for ministry within the endurance community. It serves as a way for believers to recognize each other and share in a closer fellowship with one another while reaching out to those who don't yet know Jesus as Savior and Lord.
The TriDot® System is a one-of-a-kind, patents-pending triathlon training and racing system developed based on extensive and ongoing primary research since 2004. The TriDot® System's Intelligent Design Process (IDP) is a data-driven process that produces optimized training programs built for each athlete that deliver maximum results per training hour invested (Result: more performance gains and/or less training time). Serving beginners to professionals, the TriDot® System takes the guesswork out of triathlon training and racing.
This Press release was created and distributed on behalf of TriDot by Prism Communications Inc. Prism Communications is a full service internet marketing company that cuts through the myriad of internet marketing tactics and develops a coherent strategy for companies looking to grow their online presence. To learn more about Prism Communications, or to contact them for a free consultation for internet marketing solutions, email them at sam(at)prism-communications(dot)com or call them at 917.319.2229.