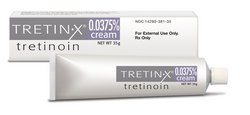 New, Exclusive Strength: Tretin-X® 0.0375%(tretinoin) Cream. New strength offers a JUST RIGHT approach for acne patients.
Cranford, NJ (PRWEB) September 9, 2010
Triax Pharmaceuticals, LLC announced today the approval of a new, topical retinoid with an exclusive strength of tretinoin; Tretin-X 0.0375%, for the treatment of acne vulgaris. An excellent choice for new acne patients that offers a between strength – effective yet gentle. Tretin-X 0.0375% is delivered in an elegant, hydrating cream vehicle. For those patients already on tretinoin therapy for acne, Tretin-X 0.0375% provides an attractive choice for the patient irritated by their current regimen, or the patient needing a higher strength of tretinoin.
Tretin-X 0.0375% is non-substitutable.
Acne vulgaris is a common skin disease that affects 60%-70% of Americans at some time during their lives. Twenty percent will have severe acne, which results in permanent physical and mental scarring. Acne vulgaris is America's most common disease and is characterized by non-inflammatory, open or closed comedones and by inflammatory papules, pustules, and nodules. Acne vulgaris affects the areas of skin with the densest population of sebaceous follicles. These areas include the face, the upper part of the chest, and the back.¹
New Tretin-X 0.0375% is available in a 35 g tube.
Important Safety Information
Tretin-X creams are effective and well tolerated for the topical treatment of acne vulgaris. Dryness, redness, or peeling may occur during the first weeks of treatment. To prevent irritating the skin, protect it from sun, sunlamps, extreme wind or cold, and harsh skincare products. Use of sunscreen is recommended. Use of Tretin-X should be discontinued if hypersensitivity to any of the ingredients is noted. Please see full Prescribing Information.
¹http://emedicine.medscape.com/article/1069804-overview
About Triax Pharmaceuticals, LLC
Triax Pharmaceuticals, LLC is a specialty pharmaceutical company with integrated sales, marketing, and development expertise that markets a portfolio of branded dermatological products including Locoid Lipocream®, Locoid® Lotion, Tretin-X® Kits, and Minocin® Kits. Triax focuses on marketing dermatology products in the United States.
For more information on Tretin-X or other Triax products, please contact Peter Volk or Aleen Hosdaghian of Triax Pharmaceuticals, LLC, 908.372.0500. See http://www.tretinx.com for full Prescribing Information.
©2010 Triax Pharamaceuticals, LLC. All rights reserved. TRTX-1008-0
###