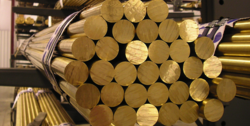 We have a rare investment in bar handling, chip handling, chip processing, oil processing and other raw material handling equipment.
Marshall, Michigan (PRWEB) April 23, 2013
Michigan based, Tribal Manufacturing, announced it is fully compliant with the coming "Reduction of Lead in Drinking Water Act" or Federal Public Law 111-380, which begins on January 4, 2014.
The Act eliminates the sale or installation of plumbing fixtures with a wetted surface area containing more than a weighted average of 0.25% lead. Products that do not meet the lead-free requirement by this date will be non-compliant, obsolete and may not be grandfathered for continued use.
As one of the larger buyers of metals in North America, Tribal machines and manufactures millions of straight and directional parts from bar stock every month, using no lead alloys from domestic raw materials. A green manufacturing operation, the company has spent a number of years working with customers to find solutions in the lead-free arena, including designing parts with custom packaging.
Tribal has been producing no/low lead components since 2008 as one of the first American manufacturers to produce parts from ECO Brass, an NSF approved alloy for no-lead applications.
A strategic partnership with Chase Brass and Copper, exclusive North American manufacturer of Eco brass alloy, has enabled Tribal to produce large volumes of No Lead machined parts and assemblies at world competitive pricing, including a wide range of plumbing fittings from 1/8" to 4" in diameter with numerous configurations, from threaded parts to tees and elbows.
Tribal is an an NSF listed facility with highly automated machining and manufacturing capabilities," said Tribal director, John Tracy. "Our infrastructure and equipment list makes us one of the most efficient and capable No Lead machining operations in the world. This provides US quality materials at world competitive pricing."
"We have a rare investment in bar handling, chip handling, chip processing, oil processing and other raw material handling equipment. Our equipment improves quality, cuts down on labor, increases turnaround time and more."
Named "Top 50 Companies to Watch" in the state of Michigan in 2012 for innovation and growth, Tribal is ISO 9001/2008 certified and produces parts that comply to NSF, CSA and UP standards. Tribal holds listings at NSF on ASTM 1807. ASTM 1960, ASTM 2080 PEX fittings and also produces components from other no/low lead alloys such as C27450, C36300, C90300 and others.
More About Tribal Manufacturing:
Tribal is a leading domestic manufacturer of quality machined metal parts and fittings.
Tribal specializes in straight and directional fitting designs, in high and low volume lot sizes, and competes with a worldwide market by leveraging our world class line of automation equipment, industry leading experience, commitment to quality, and adept creative customer-serving solutions.
Tribal is ISO 9001-2008 certified and serves many large multinational customers and partners who value our commitment to quality, attention to service and ability to compete with world class pricing. Learn more.