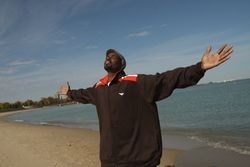 "It was truly an awesome experience for me to hold onto. Good, bad, indifferent...It's something that I can't forget."
Highland Park, IL (PRWEB) November 24, 2010
Tribe Media Films is pleased to announce the launch of their film production company's website along with the internet release of their first film project entitled: Yes.
Kalind Haynes, a former BET 'Sunday Best' top ten contestant from Chicago, has created quite a stir in the gospel music industry with the internet release of "Yes", his first gospel music single since being eliminated from Sunday Best in 2009. With no funds, Kalind along with the help of family, friends, and the social media network produced a YouTube released viral video that has gotten over 1,000 views in less than two weeks. He is hoping the release of the the video via the internet will garner more supporters, and ultimately earn him another shot at stardom.
After failing to make the cut to the final round on Sunday Best (hosted by Grammy Award winning gospel artist Kirk Franklin) Kalind flew back home to Chicago and headed straight to the recording studio. He and music producer Aaron Sledge went straight to work and produced the single entitled "Yes" in one day. The song, with no video production budget, was then forwarded to Tribe Media Films in Chicago where up and coming director, Obie Varnado, accepted the challenge of producing and directing the video. The end result is this beautifully produced video that shows the world that just as Chicago native Jennifer Hudson was able to overcome tremendous odds so can her fellow Chicagoan Kalind Haynes.
The Yes video has been nominated for an award by the 2010 San Diego Christian Film Festival: http://www.sdchristianfilmfestival.com. The SDCFF is scheduled to run the video Dec. 27-30, 2010. In addition to the San Diego Christian Film Festival the Yes video has also appeared in three other film festivals this year:
1. World premier at the Cannes Independent Film Festival on May 12-23, 2010 in Cannes, France.
2. World Music Independent Film Festival August 16-21, 2010 in Washington, DC.
3. 15 Minutes of Fame Film Festival on July 9, 2010 in Palm Bay, Florida.
In losing his bid to become Sunday Best Kalind walked off the stage a loser, but found support in a loyal internet fan base that believe this YouTube video makes him a winner.
# # #