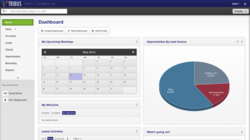 Our goal is to bring the fun back into tasks that are often viewed as dull and boring. Efficiency and productivity don't have to equate to a displeasurable experience.
Irvine, CA (PRWEB) May 15, 2013
TRIBUS, a leader in the development and implementation of real estate brokerage and agent online solutions, announced today the launch of its newly developed real estate CRM (Customer Relationship Management) system. The backbone of the system is rooted in gamification—the use of game mechanics in a non-game context in order to engage users and solve problems.
Based on extensive research and beta-testing, TRIBUS was able to identify that real estate agents were more likely to participate, engage and stay consistent in executing tasks if a competitive element were attached to the tasks.
"Gamification has always existed in some capacity," explains Eric Stegemann, TRIBUS Director of Business Development. "Think back to when you were in grade school. Teachers would announce who received the highest score on an exam, and you always wanted to be on the top of that list."
Stegemann went on to emphasis how this concept continues to hold true in adulthood. "We see the same type of gamification occur in workplace settings, such as recognition of the top sales associate each month. The truth is, humans are innately programmed to function at a higher capacity if there is some type of game involved, whether it's tangible or perceived."
Based on these foundational principles, TRIBUS integrated this gamification concept throughout its newly launched real estate CRM platform. The user, ultimately a Realtor®, is awarded with badges, awards, and prizes for completing particular tasks, such as entering status updates and notes into the system or following up with a prospect via phone or email. Their franchise or broker has the ability to see who is active and engaged, and has the ability to create leaderboards and incentives around consistent usage.
Stegemann went on to say, "While many of these real estate tasks should be completed each and every day, it's easy to understand why they could be viewed as mundane or tedious. That's why a top priority was to integrate a fun element into things that really are what create a successful real estate agent."
Click here to experience TRIBUS' newly launched CRM.
The new real estate CRM system also provides immense value to real estate brokers, as a broker's success is directly influenced by how effective the offices' agents are. "When we speak to real estate brokers, we often hear about frustrations they're having due to a lack of agent engagement. This new system will give agents a reason to stay engaged, and in turn, be a positive contribution to a broker's bottom line," commented Robert Luna, TRIBUS' Director of Sales.
The new system officially launches May 15, 2013 at the National Association of Realtors Mid-Year Meetings in Washington, D.C.
"We're so excited to introduce a completely unique and fresh element to real estate CRM and know that users will see its value in making the mundane fun, immediately upon usage, " concluded Stegemann.
About TRIBUS:
TRIBUS is a leading pioneer in changing the face of online real estate tools and systems that focus on increased productivity and efficiency both for real estate agents and brokerages. The company's suite of services include: custom website design and development, a robust CRM platform that includes workflow systems, Google Apps integration, email marketing campaigns, and on-page search engine optimization.
About Eric Stegemann:
TRIBUS Director of Business Development Eric Stegemann is regarded as a prominent thinker and doer in the real estate industry. His experience as a real estate broker, formal education in computer engineering, and ability to see unique opportunities years before they become adopted have proven valuable throughout his career. Stegemann consistently presents at a variety of real estate conferences, including the National Association of Realtor Annual Conference, Inman Connect New York and San Francisco, Prudential Annual Conference, Xplode, Agent Reboot and various state and local Associations of Realtors meetings.