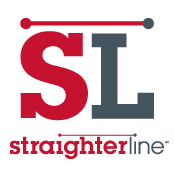 "StraighterLine and Trident University International's partnership brings together two online organizations with similar goals; quality education at cost effective tuition rates.
Baltimore, MD (PRWEB) February 27, 2013
StraighterLine (StraighterLine.com) announced today that Trident University International (trident.edu) has joined their rapidly expanding network of partner colleges. Trident's commitment to serving the needs of all highly motivated adult learners, especially those in the military, as well as government and corporate sectors, fits perfectly into StraighterLine's partner school network, which now includes many of the leading adult-focused institutions of higher learning.
Founded in 1998, Trident University has become the University of choice for tens of thousands of men and women all around the world. Like StraighterLine, Trident University is at the forefront of online education. Trident University emphasizes case-based learning which focuses on the development of critical thinking skills. The Trident University teaching approach is a multi-faceted model based on the belief that successful learning outcomes depend on multiple factors employed together in a holistic approach.
Through this new partnership, Trident University and StraighterLine offer adult learners the opportunity to earn a quality online education , at their convenience, at a substantially lower cost than most traditional degree programs. Students can take freshman and introductory-level classes through StraighterLine and save thousands of dollars on the cost of their college degree. With StraighterLine's affordable subscription pricing plan, students can save up to 90% on their first year of college and can move through the material as quickly or slowly as they like. StraighterLine offers entry-level college courses online in Business, English, Humanities, Math, Science and Foreign Languages, as well as College Prep. In addition, StraighterLine offers a wide variety of CBEs (credit-by-examination) that allow students to earn college credit based on test scores.
"StraighterLine and Trident University International's partnership brings together two online organizations with similar goals; quality education at cost effective tuition rates. As TUI adds the government and corporate sectors to our traditional student core of active duty military, StraighterLine provides a strategic value in their offerings and existing partnerships," says Brett Shively, Vice President Outreach and Partnerships.
"Together, StraighterLine and Trident can give students a pathway to a degree without breaking the bank," says Burck Smith, CEO of StraighterLine.
About Trident University International
Founded in 1998, Trident University International (TUI) is a leading online postsecondary university serving all adult learners. Trident uses traditional case-based learning in a proven online setting to teach critical thinking skills so students earn high-quality baccalaureate, master's and doctoral degrees. TUI offers academic excellence, as over 90% of its faculty members have doctoral degrees. They use a real-world, practical curriculum that provides students with the tools to enhance their lives and can help further their careers. Please visit trident.edu, join our Facebook page or call Trident University International at 1-800-375-9878 to learn more about our wide range of bachelor's, master's and Ph.D. programs.
About StraighterLine
StraighterLine has been recognized as a revolutionizing force in lowering the cost of college education by major news organizations and the U.S. Chamber of Commerce for offering students online courses that earn real college credit for just $99 a month. Inside Higher Ed recognized StraighterLine for offering the "...lowest-cost set of credit-bearing courses on the Internet." And Fast Company named StraighterLine one of the "10 Most Innovative Companies in Education."
In order to facilitate the award of credit, StraighterLine has forged partnerships with leading accredited online colleges and universities. A student ultimately earns a degree from those institutions but realizes tremendous savings and convenience by starting with StraighterLine.
StraighterLine's courses are evaluated and recommended by the American Council on Education's College Credit Recommendation Service (ACE CREDIT), which includes over 1,800 participating colleges and universities. In addition to the institutions with which StraighterLine has a direct relationship, more than 300 other schools are reported to have accepted StraighterLine coursework for transfer credit.
Currently, StraighterLine offers entry-level college courses online in the Sciences, Humanities, English, Math, Business and Language. Many StraighterLine courses are now offered in both self-paced and professor-led formats, for students to take individually or as part of a cohort. 5 StraighterLine courses have been approved by The College Board to be listed as AP courses. As a pioneer in the movement to revolutionize college for America, StraighterLine also offers alternatives to college courses including Prior Learning Assessments and credit-by-examinations that let students earn college credit for knowledge and life experiences they already possess.
For information, visit StraighterLine.com or call 1-877-str8erline (1-877-787-8375).
###