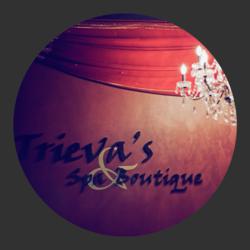 Lynnwood, WA (PRWEB) April 26, 2013
As their one-year anniversary party approaches, Trieva Katsandres and her staff are thrilled to celebrate their accomplishments with the community. Their biggest achievement came at just seven months in business when, in November, Trieva's Spa & Boutique won the title of "Best Day Spa" on Evening Magazine's "Best of Western Washington". The prestigious annual award sponsored by King 5 News is a great honor for any local business and has put Trieva's Spa & Boutique on the map ranking above several world-renowned spas. Owner, Trieva Katsandres, expects that this award will get people talking about the newest and best place to de-stress.
And yet, at only one year in business, people are already talking. Trieva's reviews are overwhelming testimonials to how her business has garnered such a following. Alicia H., from Seattle, WA says "A friend recommended Trieva's to me a long time ago, I finally followed her advice and she was dead on. This place is CLEAN, fast and thorough. I'll definitely be back and can't wait to try their other services!"
Jo P. simply states: "Trieva actually makes me look forward to getting my Brazilians." To anyone that has experienced a Brazilian Wax, this is saying something.
Trieva and her team are absolutely thrilled by the positive feedback they have received at the new Lynnwood location and look forward to growing as a part of the community. From her humble beginnings in a backyard makeshift spa, Trieva was able to grow her business into a full-service seven-room luxury spa with 16 employees offering services from massage to waxing to eyelash extensions and everything in between. Over her 20+ years as an esthetician and mother of three, Trieva has worked hard and persevered through great financial struggle. She has been through very hard times, but Trieva is grateful for every day: "Everything happens for a reason and it's usually for the best."
Trieva and spa manager, Maysaa Abouhamze, have worked diligently together to bring their life experience in healing others to their new and much larger location in Lynnwood. Their company philosophies, values and mission statement are what really set Trieva's Spa & Boutique apart from other businesses in the industry. "Be present, Be alive, and Be beautiful in your unique embodied experience," is the message that Trieva's Spa & Boutique hopes to spread to their guests and to the community. This basic yet complex word, "Be", is the mission statement at Trieva's Spa & Boutique. Founding the spa on these beliefs, Trieva and her team were able to build a community of strength, peace and beauty based on ancient and modern healing practices. Trieva believes that fulfillment begins with the self, and her team's first priority is to bring out the strength, beauty and self-love that exists in everyone.
Knowing the daily struggles of busy women who must juggle work, family, finances and anything else that life may bring, Trieva has always strongly believed in a woman's need to be nurtured and understood. She has made it her life's goal to support other women and make a difference in their lives. Over the years, Trieva has not only garnered a following from those who seek relief from acne, unwanted hair and dry skin but also, the women who seek her services quickly discover that they have found a nurturing mother and therapist with the healing gifts of laughter, listening, forgiveness, joy, touch, connection and freedom that we all deserve. With her expansion into the Lynnwood location, Trieva has taken it upon herself to assemble a team of women that she has educated and mentored to accommodate the demand for spiritual nurturing and healing. The services performed by these women are guaranteed to relieve the most stubborn aches, pains and aesthetic ailments while healing and rejuvenating the soul and spirit.
Trieva particularly recommends the following services for a signature Trieva's Spa experience, performed by herself or any one of her expert practitioners. The spa's Signature Skin Repair Facial with microdermabrasion is highly customized to address your personal concerns and achieve results. The microdermabrasion along with a tailored series of cleansing, massaging and masking will reveal the radiance, clarity and glow that your skin was meant to have. Trieva recommends adding a peel to this experience to see maximum results. The service that has visitors knocking down the doors at Trieva's Spa & Boutique is the Brazilian Wax. Dreaded by most, this service is not often viewed as a pleasant experience. Trieva's Spa & Boutique is changing this perspective one convert to the next. Promising the quickest, most comfortable, thorough and painless wax you have ever received, Trieva's estheticians deliver in less than twenty, and sometimes no more than ten minutes. Another popular service is their 70-Minute Massage that includes a neem silk oil scalp massage, and moisturizing shea butter foot rub. This full body experience will relieve aches and pains while offering the ultimate bliss and relaxation literally from your head to your toes. Enjoy one of these services for the ultimate experience of well-being and relaxation at Trieva's Spa & Boutique; and to find out exactly why this budding sprout of a local Lynnwood business merited the most esteemed business award in the Northwest.
The Lynnwood location is just the beginning of what Trieva and Maysaa hope to achieve in their path to provide the highest of standards in healing and wellness with an inclusive and accessible environment. Trieva and Maysaa hope their initial success will allow for expansion into a second location, which will accommodate a larger clientele, provide employment for many more practitioners, and allow for significant acts of philanthropy and involvement in the community. Not letting the fragility of their new business get in their way, Trieva's team has been a part of several charities already. Trieva's Spa & Boutique employs 16 local women and men, and has thus far sponsored several community projects including the Coltan Can Foundation, the Lynnwood Food Bank and has adopted several families in the Lynnwood area for the holiday Adopt-A-Family program. Trieva, Maysaa and team believe it is their duty and responsibility to give back to the community and set an example for other small businesses. They know that gaining publicity from their recent victory will aid in spreading this sentiment and the values of Trieva's Spa & Boutique from their little corner of the Highline Plaza in Lynnwood to the greater community and beyond.
About Trieva's Spa & Boutique
Trieva Katsandres began her career doing nails as a teenager in L.A. where she learned the basics of the industry at her mother's hair salon. After working for several different spas, salons and a hotel, at 28-years-old, Trieva crafted her own one-room day spa out of the garage in her family's Greenlake home. From there, Trieva's family moved to a new house where she was able to keep her in-home business. The recession hit Trieva and her family hard as owners of several properties. Trieva's family lost all of their financial assets and was forced to move into a smaller home in Lynnwood. Due to lack of space at the new home, Trieva rented a commercial space located in a Mill Creek salon. At the Mill Creek location, Trieva was able to rebuild her life with the help of the blooming social media platforms such as Living Social and Groupon which expanded her clientele so much that she decided to hire two more estheticians to accommodate the high demand for her services. When Trieva's single treatment room in Mill Creek was booked solid seven days a week, she realized it was time to expand. Trieva had always dreamed of opening her own spa and In April of 2012, Trieva's Spa & Boutique opened its doors to the community. Trieva and her team are simply in awe of the warm welcome they've received.