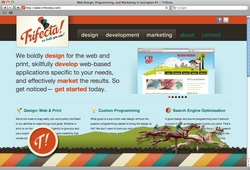 To win a Gold ADDY on our first try, that's obviously very encouraging.
Lexington, KY (PRWEB) March 15, 2011
On Saturday, February 12, 2011, Trifecta was presented the Gold ADDY award in the Website, B-to-B HTML, Services category from The Lexington Advertising Club for the company's Trifecta business website. Having won this award for web design in the Lexington, KY area, the entry now moves on to the Fifth District of the American Advertising Federation competition to be held in the spring.
A Gold ADDY award represents the highest level of excellence, as judged by marketing and advertising professionals from nearby cities. Silver and Bronze ADDY awards are also presented; however, only Gold ADDY winners advance for district consideration, with the potential to move on from there for regional and national recognition.
Kevin O'Dea (Partner / Designer / Programmer) and Jonathan Moore (Partner / Programmer / SEO Analyst) were in attendance at the ceremony and accepted the award on behalf of the company.
"This was the first time we had entered the competition," O'Dea said. "To win a Gold ADDY on our first try, that's obviously very encouraging."
With a busy year already in full swing, Trifecta currently is completing an iPhone app for the Child Care Council of Kentucky. The company also expanded its offerings in 2011 to include video production, copy editing, and marketing consulting, all areas that the American Advertising Federation considers for ADDY award honors.
The ADDY Awards have recognized outstanding media and marketing efforts for the past fifty years. With an entry pool in excess of 50,000 per year, many of the country's top creative efforts receive recognition on one level or another. Lexington's ADDY Gala took place downtown at the Hyatt Regency and was organized by AAF Lexington.
The award-winning website may be viewed at http://www.trifectaky.com. It employs standards-compliant XHTML/CSS/PHP and was built in early 2010.
About Trifecta:
Trifecta was formed in 2010 when two long-time collaborators, Jonathan Moore and Kevin O'Dea, decided to join forces to create a full-service design, development and marketing agency. With over 20 years of combined experience under their belts, Moore and O'Dea specialize in custom development (rather than cookie cutter development). From web and print design to SEO and social media strategy, effective marketing is the overall goal. By providing unparalleled customer service (along with top-notch workmanship) Trifecta strives to form successful, long-term relationships with its clients. The company operates from its home base in Lexington, Kentucky and maintains clients in Lexington, Louisville and throughout the country. For more information, visit http://www.trifectaky.com/contact.php.
# # #