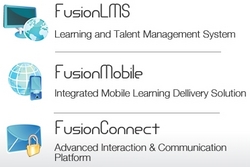 Through strategic partnerships we have been able to integrate three powerful systems to create a revolutionary online business solutions package
Homestead, FL (PRWEB) September 14, 2009
TriniteLearning, Inc. (TLI) a provider of online business solutions software announces the evolution of its TriFusion software offering.
TriFusion consists of three products, FusionLMS, a Learning & Talent Management System, FusionMobile, an Integrated Mobile Learning Delivery Solution, and FusionConnect, an Advanced Communication & Interaction Platform, which help businesses manage and track employee job related growth; allow training administrators to deliver full quality video and interactive elearning courses to mobile devices; as well answer the challenges around client acquisition and shortening of sales cycles.
FusionLMS - Learning & Talent Management System, through its (SaaS) application; enables companies to manage in one location its training, certification and talent resources for the growth of all employees. While their course developers build and deliver full quality, interactive courses by using its advanced elearning authoring tool.
FusionMobile - Integrated Mobile Learning Delivery Solution, enables corporate, educational, and government enterprises to realize an increase in learner-base penetration, while reducing cost of operations. Learners benefit by having access to accountable video training in mobile devices anywhere they happen to be, and anytime they are ready to have an effective learning experience, thus accelerating the learning curve.
FusionConnect - Advanced Communication & Interaction Platform, a secure and easy way to send and receive important information such as contracts, large files of 100MB +, and content-rich, interactive messages, delivered in a single message. In an ultra secure, closed-end network, it gives you the ability to track message activity, fully execute contracts with e-signatures, track billing status individually or across an organization, and have long-term archiving for easy access.
TLI's VP of Sales, Frank McSparren, stated, "Our team feels strongly that the use of these solutions in your business will provide real time cost savings while giving you the edge over your competition. This is a perfect solution for anyone trying to become HIPPA and SOX compliant. These are three unique platforms we have packaged together and most importantly, packaged as a robust business solution."
Customers of TLI's solutions and services are provided 24/7 technical support, training, and user-friendly billing solutions. Customers can purchase all or either of the solutions based on their needs and budget.
"Through strategic partnerships we have been able to integrate three powerful systems to create a revolutionary online business solutions package," stated Gary Tarolli, Director of Business Development.
ABOUT - TriniteLearning Inc. entered into the web business solutions arena with fully integrated technology at the most competitive price available. TLI is a "solutions provider" offering leading technology and services in the learning management, mobile delivery and secure communications industries.
# # #