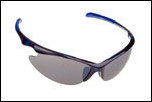 Oak Forest, IL (PRWEB) July 6, 2006
Chicago, IL (PRWEB) July 6, 2006 -- Trigger Optics, a Colorado company led by Radio Frequency engineer Rick Cosby, has developed a pair of highly advanced lenses designed to alter a certain group of light waves believed to be triggers for many types of headaches, including migraine headaches.
The concept is not new, but the highly specialized design created by Cosby for Trigger Optics is a first in the marketplace. It is essentially a pair of sunglasses designed specifically for headache sufferers. According to Cosby, "Headaches may be prevented by wearing these Trigger Optics lenses."
Cosby is an Wave Frequency Engineer by trade. His engineering degree from the Dale School of Engineering in England, focused on wave theory and radio frequency engineering. His career has included still-classified work as a design scientist with the US Department of Defense, and as a Science Contractor for the Department of Energy.
He is a professor of Electro Physics, and has completed numerous independent consulting contracts for radio frequency engineering, including the construction of several radio and television broadcast stations. Rick Cosby has a deep practical and theoretical understanding of light waves. His highly specialized education and experience make him uniquely qualified to put forth the theory that special lenses might help prevent headaches - and then to actually design and build the lenses for Trigger Optics.
Trigger Optics is a new company based out of Colorado. They are the only company in the world that create sunglasses directly for headache sufferers. Trigger Optics headache sunglasses have passed FDA inspection with impact resistance lenses that meet ANZIZ80.3UV protecbon standards, reduces infrared rays, absorbs 100% of harmful UVA & UVB rays and filters color while maintaining high levels visible contrast.
###