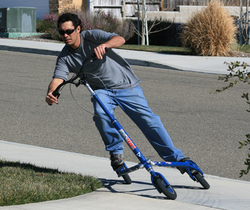 We're pleased to see people interested in saving money on gasoline and reducing their carbon footprint now using the Trikke CV for the very practical purpose of commuting
Los Angeles, CA (PRWEB) June 4, 2008
With summer driving season fast approaching, analysts see little chance of relief from the seemingly unending spike in gasoline prices that now hover around $4.00 a gallon across the nation. In an effort to protect the family budget from the gas pump, many drivers are leaving trucks, SUVs and similar gas guzzlers in the garage in favor of fuel-efficient hybrids and compact cars. Others are abandoning traditional vehicles altogether and are bicycling, jogging and busing to and from work, effectively reducing their commuting cost to virtually nothing.
Among the hardy individualists spearheading the fossil-free approach to commuting are Trikke Carving Vehicle owners. Billed as a "human-powered carving vehicle" by manufacturer Trikke Tech, the chainless and pedal-free device is popping up in bike lanes and alongside roadways as a bona fide transportation option. John Simpson, president of Trikke Tech, Inc., says the appeal of the Trikke (pronounced "trike") has broadened to include not only fitness buffs and weekend cyclers but ordinary commuters.
"We're pleased to see people interested in saving money on gasoline and reducing their carbon footprint now using the Trikke CV for the very practical purpose of commuting," said Mr. Simpson. "The unique patented design of Trikke makes it an exceptionally easy vehicle to master and also ensures that the rider can enjoy a full-body workout without strain or impact on the joints. As well, there's no chain to get your pant leg caught in, and most models only weigh about 20 lbs and fold up so small that they are very easy to take in one hand onto a bus or train, or into an elevator.
Headquartered in Buellton, Calif. just north of Santa Barbara, Trikke Tech created the three-wheeled vehicle as a fun sport vehicle that also doubles as a full-body exercise device. Riders simply plant each foot on either side of a V-shaped frame and steer with handlebars equipped with brake handles that control the dual rear brakes. To move forward, the rider carves back and forth in a motion similar to skiing. This repetitive motion causes the front wheel to pivot, or "carve" across the pavement. Fans of the Trikke CV say it combines the benefits of maximum visibility due to the rider's standing position with superb control and maneuverability unmatched by any other wheeled device.
"Without a chain or pedals, the Trikke is virtually maintenance-free and because feet remain planted firmly on the frame and the 3 wheels never leave the ground, it's easy to balance" Mr. Simpson commented. "When you combine today's gasoline prices and Trikke's ease of use, you've got the ideal personal 'green' vehicle. We're all so busy these days, its great when your commute starts doubling as your daily workout. You're not just helping your pocketbook and the planet, you're helping yourself as well."
According to veteran Trikke owners, even the non-athletic become comfortable with the unique locomotion device after just a few short hours. On smooth flat surfaces riders can reach speeds of up to 20 miles per hour, and somewhat faster heading downhill. When confronted with gentle inclines, the Trikke can be coaxed uphill with the same carving effect, although some effort and moderate dexterity is required.
As gasoline prices continue to edge ever higher, will even more Americans choose to trade four wheels for three? Mr. Simpson and his design team are betting on it.
"We're always refining the Trikke and planning new features and innovations to meet consumers' needs," he stated. "To date we've put over 300,000 fossil-free Trikke CVs on the road and you haven't seen anything yet."
About Trikke Tech, Inc.
Developed and manufactured exclusively by Trikke Tech, Inc., the Trikke is the world's only three-wheeled carving vehicle created for fun, fitness and just plain getting around. Developed with a patented chainless and pedal-less design, the full line of Trikke human powered machines enable the rider to propel themselves efficiently forward without ever touching a foot to ground. Elegantly simple and virtually maintenance-fee, the Trikke provides a stable 3-point platform for recreation or travel with the safety of maximum stability.
A Fun Ride, a Full Body Workout
Trikke's design allows the rider to naturally engage the entire body throughout the ride. Legs are active for driving the carving action while arms punch for power thrusts. The Trikke 3-wheeler allows experienced or novice rider to enjoy a fun, invigorating experience while benefitting from a satisfying workout.
Media Contact:
Mr. John Simpson
Trikke Tech, Inc.
85 Industrial Way, Dept. F
Buellton, CA 93427
Tel.: (805) 693-0800
Web: http://www.Trikke.com
For press materials, including videos, visit: http://www.trikke.com
###